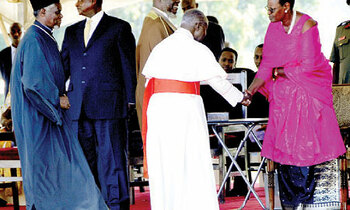 Picture this. You are in love and one of you is a Protestant while the other is a Catholic. You decide to wed in one church. After the wedding, you both go back to your original churches.
But what about the children? whose faith should they take? Mum's or dad's? Gloria Nakajubi writes about this complex dilemma
Many married couples grapple with the question of which religion the children should take. Arguments like; I am protestant. They must be baptised in my faith!" or "Look, dude, I am their mother! I have been taking them to church, so they must be Catholics like me!" are going on in many homes and families.
"When we failed to agree, we decided to alternate the churches. We pray at his church one Sunday and pray at mine, the next Sunday. The children love it," confides one mother. 
The issues at stake
But experts say this can impact negatively on the children. "The children in their young minds cannot understand what it going on. Therefore, it is not of any use to involve them in your religious battles because they get confused," says apostle Alex Mitala, the leader of the National Fellowship of born again churches.
Fr. Deo Ssonko of the Uganda Martyrs Namugongo Catholic shrine, says couples of different religions who marry in their church sign a pact to commit them to raise children in the Catholic faith. 
"The Catholic faith is clear about this marriage setting. The children are supposed to be brought up with a Catholic inclination, but the challenge is that we are a traditionally patrilineal nation and it is the man who decides matters in a home.
So chances are that if a Catholic woman married a man from a different sect, then her decision on faith may not prevail," Ssonko says.
Committing to raise children in one faith is also mandatory in the Anglican church. Rev. Canon Geoffrey Byarugaba, the national team leader at the African Evangelistic Enterprise, says it is important for couples of different faiths to think about the implications of the religions before it is too late.
"Faith is one of the major causes of strife in marriages and eventual breakups. By the time you decide to get married, one of you should be able to change for the other," Byaruhanga says, adding that if you cannot agree on which religion your children will follow, then it is better not to get married.
Does religion matter?
According to Mitala, the important thing for parents to focus on while raising children is not religion, but belief God. 
"What such a couple can do is to concentrate on teaching the children how to pray and read the bible or Koran (for Muslims)," he says.
Mitala stresses that the main decision in this matter should be taken by the man who is the head of the household.
He advises, however, that people should marry within the same faith, to avoid unnecessary conflicts. 
"But if they change when they are already married then this should not be an issue of contention, but rather ensuring that children are brought up with good values," Mitala stresses.
Children can learn both religions
Beatrice Langariti, a marriage counsellor at Focus Uganda, has a rather open opinion on this subject. Her mother is Muslim and her father is a Catholic. She was given a Muslim name by her mother and had to behave like a young Muslim girl yet she is now a Catholic.
"There is always something good we can learn from others and the same applies to faith," she says. She explains that it is better for a couple that has chosen to get married regardless of faith to understand each other.
"They can decide as a couple what to teach their children, letting the children learn both religions and giving them the liberty to choose where to belong as they grow up," Langariti says. 
Carolyne Tracy Shemeri, a legal officer at FIDA Uganda says it is important to bear children in mind at all costs.  
"As long as something is going to antagonise the emotional upbringing of the children, then the couple has to think twice," she says.
She advises that it is easy for the mother to instil her faith in the children since, in most cases, they are the ones that spend most time  with them.
"But they should not use this to indoctrinate the children with their faith against their father's faith. As they grow older, they should actually leave them to make a decision on where to go, since this is actually not their faith but the parents'," Shemeri says.
Many people, however, believe that there is no question about it. "This is Africa and, according to our culture, the children belong to the man, so there is no question on who should determine their religion.
Those are predetermined issues unless you are going to marry someone from another continent," says Andrew Kuteesa, a credit analyst at MTN  Uganda.
For Ritah Nassolo, a research assistant, she cannot fathom the idea of having her children take on a different faith.
"If a man chooses to marry me then he cherishes everything about me including my faith," says Nassolo.