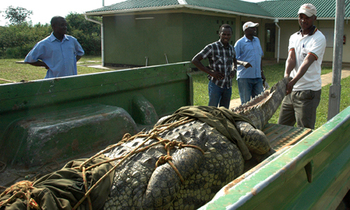 By Chris Mugasha

A 15-year-old man-eating crocodile has been relocated from Kazinga Channel in Rubirizi district after it injured two people.

The Uganda Wildlife Authority (UWA) Queen Elizabeth National Park area conservation manager, Nelson Guma, said the 3.8 metre-long crocodile, weighing about 600kg, was captured on Saturday after a week of tracking it.

He said the operation followed complaints from residents of Katunguru and Kashaka fishing villages that it had attacked and injured two fishermen in the area.

"After getting several complaints, we had to act by going in the water until we identified this crocodile which had become a threat to lives of people," Guma said on Sunday at Queen Elizabeth Park's head office.

He said at such an age, the crocodile had become capable of attacking and killing human beings.

He said the crocodile will be relocated to Murchison Falls National Park or given to people who have recreational facilities if they are prepared to accommodate it.

Guma said because of lack of piped water, communities neighbouring Kazinga Channel go into the lake to fetch water where they end up being attacked by dangerous animals.

They are trying to enter into a partnership with Rubirizi and Kasese district local governments to put in place piped water so that people don't have go to lakes for water.

"We are trying to sensitise people not to fetch water from lakes, but embark on constructing water harvesting tanks as we plan to provide them with piped water system," Guma said.

He disclosed that an estimated 200 crocodiles are believed to live in lakes Edward and George.

Guma said they are trying to map the areas where the crocodiles are concentrated so that they can see how to control them.

"After mapping, we shall allow private people who are licensed to keep them so as to remove the problematic ones," Guma said.

Fish stocks in the lakes have dwindled, forcing the crocodiles to hunt for food out of the water.

Guma said four people were killed last year, while this year, one person has been killed by the animals.

He, however, urged the communities to desist from encroaching on the crocodiles' breeding areas.