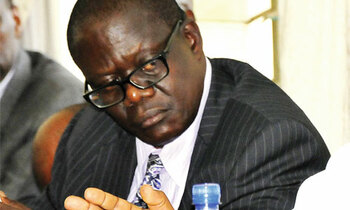 By Moses Walubiri

KAMPALA - The Minister of Transport, Eng. Abraham Byandala, has further parted curtains on his role in the sh24b paid by UNRA to a shadowy American company as advance payment to upgrade the Mukono-Kyetume- Katosi road following a marathon interface with riled legislators on Tuesday.

Byandala has of late been in the spotlight over his role in sanctioning the contract in breach of procurement guidelines that require conclusion of due diligence about the contracted firm before disbursement of a down payment.

The firm, Eutaw, has since had its officials in Mississippi stridently deny ever signing a contract in Uganda, thus raising the spectre of Government losing colossal sums to an intricate criminal cabal.

The deal is a matter of investigations by different arms of government, as Eutaw continues to wash its hands of the matter, including denying its purported representative director in Uganda, Apolo Senkeeto.

A day after claiming that the whole media ruckus about the deal is a smear campaign by mafias in government bent on seeing him booted out of cabinet, Byandala told MPs on the physical infrastructure committee that Eutaw directors meeting President Yoweri Museveni and Vice President, Kiwanuka Ssekandi largely informed his decisions pertaining to the contract.
 
true
Works minister Eng. Abraham Byandala listening while his deputy John Byabagambi raises a point during a meeting with the physical infrastructure committee at Parliament on Tuesday. PHOTO/Maria Wamala


"The company directors met the President and Ssekandi in New York when he had gone to represent Uganda at the United Nations. Besides, the company had shown willingness to use its money and get paid later.
"So, I said, sign the contract, but continue with due diligence," Byandala said, giving a chronology of the contract that has since led to investigations by the Police, the Inspectorate of Government, the Public Procurement and Disposal of Public Assets Authority and Parliament.

These details emerge as investigations continue into the alleged forged insurance and bank documents that led to the release of a sh24.7b advance payment to the contractor.

The Police have since interrogated top insurance managers from UAP and Statewide Insurance Company (SWICO) over their role in the forgery of the insurance bonds used to secure the advance payment for the road works.

Byandala also revealed that Eutaw is neither a 'ghost' nor a 'briefcase' company as has been highlighted in the media, citing a visit by his predecessor, John Nasasira, to its headquarters in 2011.

However, MPs Cecilia Ogwal and Elijah Okupa accused Byandala of playing with public funds, questioning his rationale to sanction signing the contract even after misgivings about Eutaw arose.
 
true
The Mukono-Katosi being upraded

This followed an admission by Byandala that on the eve of signing the contract in November 2013, UNRA received an email from an anonymous source indicating that Eutaw was a fake company.

"Eutaw produced two key documents that allayed our fears, including a company resolution forming a special purpose vehicle," he said.

In response to queries by MP William Nzoghu whether he thought of a contingent plan in case he committed the country into a contractual arrangement with a ghost firm, Byandala told MPs about the legal advice he got from the Deputy Attorney General, Fred Ruhindi.

"Ruhindi said we could cancel the contract in court, but after a lengthy process. So I asked whether we could expressly provide for cancellation in case Eutaw turned out to be fake and he said that would be brilliant," he said.

MP Mukitale Birahwa said: "Ideally, due diligence should have been carried out before signing the contract."

MPs also sought to know who took Eutaw officials to State House, but Byandala responded: "I don't know. I don't work at State House."


Also related to this story

'Mafias want me sacked'

Museveni commissions Mukono-Katosi Road works

Minister Byandala named in Mukono road scandal

Insurance bosses grilled over road fraud