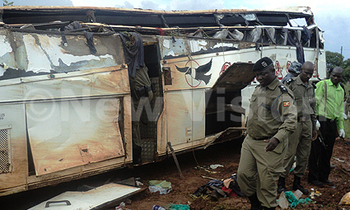 By Vision Reporters

Seven people died on the spot on Monday after two speeding buses plying the Kampala-Arua route, collided at Wabigalo in Nakasongola on the Gulu- Kampala highway.

Police says KK Travellers from Kampala was heading to Arua, while Gaaga Bus was travelling from Paidha to the city.

The 3:00pm accident left 19 injured, including four minors and a pregnant woman.
Several of these including Marsal Ayubu, the driver of Ggaagaa, were last night admitted at Mulago National Referral Hospital, after getting first aid at Nakasongola Health Centre IV.
 

The Paidha-bound KK Traveler bus that collided with a Gaagaa bus. PHOTO/Frederick Kiwanuka
 

Ayub is an experienced driver, who has worked with several travel establishments, including Uganda Transport Company (1970-80s) for a long time. He sometimes drives on the Burundi route.

Central East Police spokesperson Lameck Kigozi said: "Ten of the injured are in coma and their identities have not yet been established."

Preliminary reports indicate that the collision took place as the driver of the KK Traveller bus swerved to avoid hitting a saloon car, whose driver was joining the highway from a side road.

A witness, only identified as Kilama, narrated: "The driver of the bus tried to brake, then crashed and rolled several times. Sympathisers rushed to retrieve survivors trapped inside the wreckage, most of whom had broken limbs," he said.
 

There was a sense of desperation as relatives made calls to get news about their loved onePHOTO/Eddie Ssejjoba


As many as 19 people were injured in the two-bus collision. PHOTO/Eddie Ssejjoba

All those who died were travelling on the Gaagaa bus. Several of the injured sustained deep cuts, while some had their limbs severed off.

The Police removed a severed woman's arm and a severed man's foot from the mangled wreckage of the Gaagaa bus.'

Ozero Omirambe, a survivor, who travelling on the KK Traveller bus, said they had left Kampala at midday.

Police spokesperson Fred Enanga said the accident involved two buses with registration number, UAM 104H belonging to KK Traveller and UAU 795H. By last evening, the bus hub locally known as Arua Park, was jammed with anxious relatives and friends seeking details of the injured and dead.
 

This passenger was lucky to escape with minor injures . . .

But for this other one, the injuries were more serious. PHOTOs/Eddie Ssejjoba

By Monday evening none of the companies of the ill-fated buses was willing to talk to the press.

According to the recently released Police crime report, 18,313 accident vehicles were inspected countrywide, which is a reduction of 4%, compared to 2012. Of these 1,002 were found to be in dangerous mechanical condition before the accident, 630 were unfit for road use and 446 were written off.

A total of 16,331 (89.2%) of all accident vehicles inspected were privately owned and 1,099 (5.6%) belonged to foreigners.

(Reporting  by Simon Masaba, Edward Anyoli, Clare Muhindo and Frederick Kiwanuka)