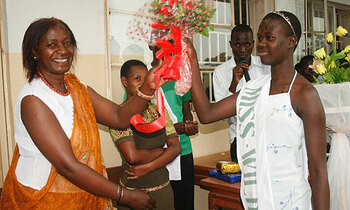 By Charles Jjuuko

Teachers and students of St. Kalemba SS in Kayunga district are in excitement mood following a landslide victory of Proscovia Alengot Aromait in the Usuk county parliamentary by-election.

The evidently excited students and teachers spent most of their time on Friday jubilating for Alengot's victory who is a former student of the school to win a parliamentary seat.

 "We are very proud of her for winning the election and we have trust in her that she will represent her constituents very well because she has the capability," Said Juddie Kamanya a teacher and a former academic parent of Alengot. "She was a committed and honest student and during her stay here she was the news anchor of school's news weekly bulletin," Kamanya added.

Kamanya revealed that while at school, Alengot showed interest in fighting for women's rights through poems and news articles she used to write while at school.
true
Students of St. Kalemba jubilate as they read a copy of the New Vision newspaper
 He however, advised the young legislator to continue focusing on her education despite being in parliament. "It is impressive that Usuk residents overwhelmingly voted for Alengot and this massive support shows that they expect a lot from her," Derrick Sserwadde S.6 who was her close friend at school said.

 "We prayed for her during the campaigning period to win the election and indeed God answered our prayers to make her way to parliament at that young age,"

Rapheal Guma remarked. Students at the school described Alengot as a social and an environment loving person. "She loves conserving the world and that is why she was crowned miss Wildlife of the school

2010-2011 after beating other candidates," Lucy Laloyo S.6 said adding that they were optimistic that the young legislator will use his position as a parliamentarian to fight against people who abuse the environment. Alengot who got 10 points in last years UACE exams, was a leader of the patriotic club and outside class work she enjoyed playing volley ball and basketball as well as participating in Music Dance and Dramma.

The school head teacher, Everest Baguma said in 2010, Alengot joined St. Kalemba SS in S.5 and she was one of the disciplined students in her class. "We wish her well in parliament and we are confident that she will not ashame us we already saw good leadership skills in her,"

Baguma said. Students said their colleague's victory is a clear indication that the bright future of this country now lies in the young upcoming politicians urging people in other parts of the country to emulate voters of Usuku County by supporting young politicians whom they said would transform this nation in social-economic aspects.