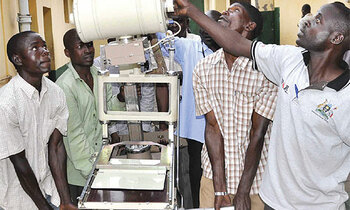 By Felix Osujo and Emma Ogaino

A senior clinical officer at Soroti Hospital, Sam Samali Moiti, has been detained at Soroti Central Police Station, following the theft of an X-ray machine valued at over sh20m.

Acting on a tip-off, Pontiano Jumba, an assistant director of the medicines health services delivery monitoring unit, led the team that stormed Awoja Medical Centre in Soroti town where the machine was recovered.

Moiti also works at the medical centre.

This is the second major theft case recorded at the hospital after a CD4 count machine worth sh60m was stolen from Uganda Cares-Anti-Retroviral Therapy Clinic at the hospital last April.

The Police recovered the machine at Orwadai village, a suburb in Eastern division, Soroti municipality. It was concealed under a bed in a private home.