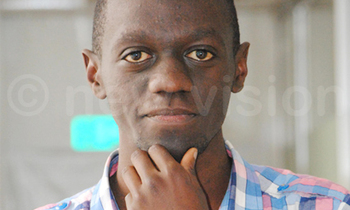 Vision reporter

Jeff Ochieng, a Kenyan photo journalist is excited about the news that his look-alike Dr. Warren Kizza Besigye Kifefe is willing to meet him.

"I would be more than willing to meet not only Kiiza (Besigye) but also his relatives so that I can end my puzzle", he said Wednesday hours after the New Vision exclusively published his interview seeking to know whether the former FDC leader is his father.

In an exclusive interview, Nairobi based  22-year-old Ochieng said he has never seen his father and never had chance to get details from his mother Elisha Adhiambo who died close to 10 years ago. His next of kin is his uncle Julius Ombajo who raised him and paid for his education.

In brief remarks Ocheing who said he has read the article which has since gone viral on internet remarked, "I would like to meet him (Besigye) as soon as he returns from his trip.  I'm happy he is ready to see me. Since he is engaged with other duties, I have to change my planned August 22 visit to Uganda."

On Tuesday, Dr  Besigye said Ochieng was not his son "there are many people who resemble me but that does not necessarily mean I fathered them. I saw something (Ocheing's photo) like that on internet and indeed the man resembles me. But that cannot make him son."

The New Vision newspaper story on the Besigye look-alike has since gone viral online attracting hundreds of mixed comments on New Vision's website and on social media.

On Facebook, the story generated 717 comments by press time yesterday while 267 people shared it on their respective Face book pages.

On twitter; 629 people tweeted and the story link reached 1,816,831 (Impressions) people.

RELATED STORIES 

 Is Besigye look-alike his son?