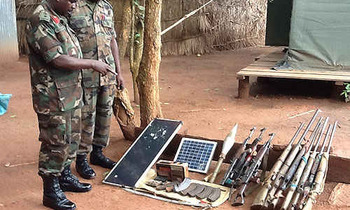 By Francis Kagolo         
      
The Uganda People's Defence Forces (UPDF) has captured ammunition and household equipment in a fresh attack on Joseph Kony's LRA rebels in the Central African Republic (CAR).

The UPDF also rescued a six-year-old child born in the bush whose father and mother, both Ugandans, are still in the bush.

Another 19-yeard-old boy from the Democratic Republic of Congo (DRC) was also rescued when UPDF launched an assault on a group of LRA rebels commanded by Dominic Ongwen and a one Kibwola in CAR on Friday.

According to army spokesperson Col. Felix Kulayigye, the squad killed two rebels who are yet to be identified and also captured a number of guns.

Other captured assorted items include source pans, plates, jerrycans, and tools for digging out wild yams, solar panel, domestic radio and clothes.

Uganda launched its military offensive against the Lord's Resistance Army (LRA) rebels and their leader, Joseph Kony, to the jungles of CAR in 2009.

This was after CAR authorised UPDF to pursue the LRA in its territory. The rebels have abducted, maimed and killed thousands of people in the region.

Uganda, South Sudan and DR Congo on December 15, 2008 jointly attacked the LRA bases in Garamba forest in eastern DRC. An airforce, paratroopers and the infantry backed the operation. The allies attacked the main body and destroyed the rebel main camp called Camp Swahili.

The military offensive came after Kony, wanted by the International Criminal Court for crimes against humanity, refused to sign the final peace agreement negotiated with Uganda in Juba, South Sudan.

The attack sent his fighters in disarray and they resorted to reprisal killings targeting civilians.

A meeting between President Yoweri Museveni and his Congolese counterpart, Joseph Kabila, in January 2009 resolved that the UPDF withdraws so that the Congolese army continues the fight against the LRA.

On March 15, the UPDF withdrew from Congo but a few remained to gather intelligence on the rebels and share it with the Congolese army.

But later the UPDF redeployed in CAR following reports that Kony and his fighters were oscillating between Congo and CAR.