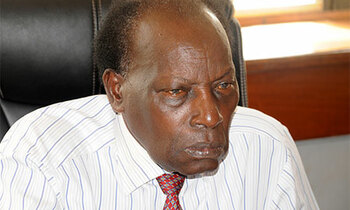 By John Semakula
Retired Supreme Court judge, Justice George Kanyeihamba has expressed bitterness over the meager monthly pension he is getting after retiring.
He says there is no sense of patriotism in the pension he gets.
The retired judge was at the launch of his memoir, "The blessing and joy of being who you are" at Protea Hotel Kampala presided over by Speaker of Parliament, Rebecca Kadaga.
"How can a man who served as the attorney general, a professor of law at Makerere University and Justice of the Supreme Court get sh900,000 as a monthly pension? Where is patriotism in this country?" were the questions of a bitter Kanyeihamba.
Out of the monthly pension he gets, he spends a big chunk of it on paying his security guards and a driver, he says.
According to him, the expenditure on his security and driver almost exhausts the sh900,000.
Speaking at the launch, he revealed that the pension did not come as soon as he had retired, that his first pension check came three years after his retirement.
Missed opportunity
He talked of the selfish people in government whom he accused of blocking his chances of getting international jobs upon his retirement.
He said he missed out on jobs like Justice at the International Court of Justice in Hague and Chief Justice in the Seychelles.
He was blocked from getting the jobs because he had been a critic of the NRM government, he claimed.
"Those who blocked me thought they were punishing me, but somehow they gave me a favour because I got time to write this book and share my personal experience with you," he spoke of his memoir.
He also expressed bitterness over the poor culture of recognizing people who have done great things in this country, like him.
"I have been honoured by people from the other continents but nobody in Uganda has recognized me for the good things I have rendered this country," Kanyeihamba said. 
Gen. Elly Tumwine, the Lord Mayor of Kampala Erias Lukwago, Forum for Democratic Change President Kizza Besigye and a chain of High Court judges attended the launch.
Speaker after speaker commended Kanyeihamba for the good service and for his boldness.
"You are a role model for this country and the presence of people like you will always have an impact. The government has utilized your expertise very well," Kadaga said of the former judge.
Kanyeihamba challenged Ugandans to learn to take personal decisions because ultimately they will be answerable to their God as individuals and not members of their groups.
He also cautioned Ugandans of different political ideologies against taking their opponents as enemies but friends for the good of the country.