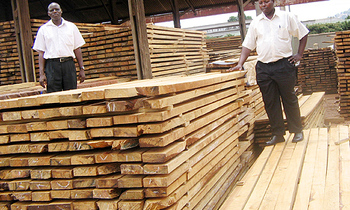 By Vision Reporter
The timber auction by the National Forest Authority (NFA) at their Nakawa headquarters has changed operation.
The exercise that has for long been conducted through open bidding; where the highest bidder for a given lot of timber takes it, has now changed to closed bids arrangement.
Bidders are now compelled to inspect the timber in advance, then offer prices for each lot. For a bid offer to stand a chance, it has to be above the reserve price set by NFA.
Later the bidders openly participate in the opening of bids.
The closed bids arrangement started with the recent 65th timber auction at Nakawa in which 360 lots of hard wood timber were sold.
NFA made sh86m from the sale. The auctioned timber species included hard wood such as Eucalyptus, Musizi, Nzingu, Mahogany, Mugavu, Mubajjangalabi, Kirundu, Nongo, Nkago, Nkuzanyana timber.
However, sources from NFA said the new arrangement was a success though many successful bidders have failed to show up to pay for their timber.
Some bidders claimed the quality of timber being auctioned is deteriorating and does not meet the usual length.
NFA auctions timber which is impounded by its enforcement team. Usually, this is timber that is being transported without license, or was illegally harvested by use of power-saws, which were prohibited by NFA.