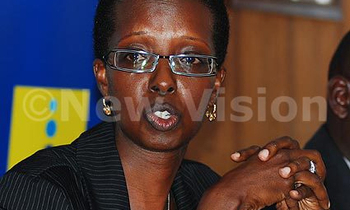 By Vision Reporter

Uganda Revenue Authority (URA) Commissioner General, Allen Kagina, prefers to quit when her second 5-year contract expires in October.

The national tax body boss on Wednesday told a Parliament committee on finance that she will not seek renewal of her contract.

"There are many capable Ugandans who can take up the position," Kagina responded to some MP had begged her to stay.

Kagina joined Uganda Revenue Authority as a Senior Principal Revenue Officer in 1992, serving in that capacity until 1998.

In 2000, she was promoted to the rank of Deputy Commissioner for Customs, serving in that capacity until 2001.

She was appointed Commissioner General in 2004 and is credited with improving the financial performance at URA.

Kagina studied at Gayaza High School, a prestigious, private, boarding, all-girl middle and high school.

She holds the degree of Bachelor of Science in Psychology (BSc), obtained from Makerere University, Kagina also holds the degree of Masters in Public Administration (MPA), obtained from the University of Liverpool in the United Kingdom.