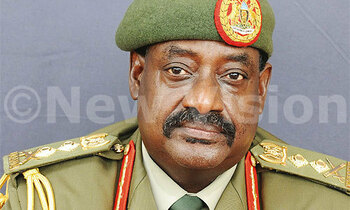 By Vision Reporter
Gen. David Sejusa's Freedom and Unity Front (FUF), a coalition formed barely a year ago to cause regime change in Uganda, has fallen apart.

FUF was launched in December 2013 at the London School of Economics with Prof. Amii Omara Otunnu as chairperson, Sejusa as an executive member and Vincent Magombe as press secretary.

It was described as "an inclusive political organisation working for a new democratic, united, tolerant and progressive Uganda."

The formation of FUF followed a merger last year of Sejusa's Free Uganda (FU) and Citizens for the Defence of the Constitution (CDC) of the late Lt. Col. John Ogole. Ogole, who died in London on April 30, 2014 was the head of the UNLA counter-insurgency operations in Luwero Triangle against NRA in the 1980s.

The falling out in FUF is revealed in a number of confidential missives Sejusa aka Tinyefuza has of lately sent out to members.

In the latest missive, Sejusa said he has reconstituted his organisation, Free Uganda (FU) and was calling for an emergency meeting to discuss the matter.

"FU leadership shall endeavour to keep this development from the press and the enemy and requests that all others do the same so it does not worsen the situation," Sejusa stated in the missive.

"Comrades, while this is a sad day for FUF as we knew it, we should look at the positive side of this development. The fact that FUF can still find it in itself to try and minimize this falling out is commendable.

"In the past, many organisations in our situation would be going after each other in the press, thereby undermining the struggle critically. I am, therefore, requesting all concerned that this be kept within the executive of FUF. I also request MM not involve the media team in this yet," he said.

"Perhaps most unfortunate is that my brother Amii seems not equal to the task of leading both a political and non-political organisation (you know what I mean). This has caused a lot of disruption and the inside forces can't take this any longer."

He said people like Amii "don't easily understand the complex dynamics involved in leading a multipronged struggle".

Find Sejusa's full confidential message in Wednesday's New Vision newspaper (July 23, 2004). You can also access it from our e-paper here: E-PAPER