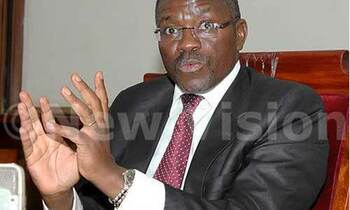 By Enock Mayanja Kiyaga

Baganda and well-wishers in the UK are set to receive the Katikkiro Charles Peter Mayiga, as part of his ongoing campaign to collect funds dubbed 'Ettoffali' for the reconstruction of Kasubi tombs, Masengere House and other development projects in Buganda.
The organisers of the UK event, "Friends of Buganda UK", headed by James Mugga, and Kabaka's representative in UK, Godfrey Sekweyama, confirmed that the preparations for Katikkiro's visit are in high gear with leaflets being distributed, asking people to make their contributions ahead of time.
This will be the second trip out of Uganda by Mayiga who has visited most of the counties in Buganda where he collected millions of shillings from Kingdom's loyalists and sympathisers, the first having been to Dubai in United Arab Emirates in May 2014 where he collected sh78m.
Sekweyama said the the Katikkiro and his delegation will arrive Friday  August 22 just in time for the main function the following day dubbed "Buganda Twezimbe UK Fundraising'', at The Harris Academy, 112 Peckham Road, London SE15 5DZ.
A number of Kampala based artists led by Mathias Walukagga have been lined up to entertain the guests during and after the event.
Before the function, the Katikkiro will join a North London Seventh Day Adventist community at their service in London led by Pastor Blessious Kalemeera Mutebi, where he is also expected to collect Ettaffali.
The following day, Sunday August 24, the Katikkiro will preside over Bika Byabaganda UK (Inter-clan competition) sports annual event at Lee Valley Athletics Centre, Pickets Lock, Edmonton, N9 0AR.
According to Fred Semugera, the organiser of the event, the Katikkiro as chief guest will hand over medals to winners in different categories and continue to collect funds for "Ettoffali" drive.
Friends of Buganda UK Chairman, James Mugga encouraged all Baganda and well-wishers in different localities in UK to mobilise funds amongst themselves ahead of the Katikkiro's visit so that they can hand over their contribution to the Katikkiro during the main event.
In Manchester, Ugandans under their umbrella organisation, The Uganda Community in Greater Manchester (UCOMM) led by Rehema Kawooya have set up a committee to mobilise all Ugandans in the area with a view of getting them involved in fundraising.
Kawooya said the drive committee has set Saturday August 2 as the date for the fundraising in Manchester to be presided over by Kabaka's representative in the UK.
All proceeds collected on that day will be presented to the Katikkiro at the main fundraising event in London.
Buganda ministers on Katikkiro's delegation who will make different presentations as a curtain raiser include Twaha Kawaase Kigongo (Education) , Henry Sekabembe Kiberu (Youth) , Ritah Kisitu Namyalo (Tourism), Ben Kiwanuka Mukwaya (Health) and Buganda Land Board's David Kyewalabye Male.
They are slated to make presentations in regard to their line ministries in the UK.