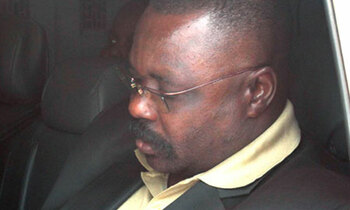 By Reuben Olita
The private visit to Kenya by Uganda's deputy Speaker of Parliament, Jacob Oulanyah on Sunday caused jitters among security agents manning the international border point of Malaba.
Oulanyah arrived at the Kenya Immigration offices at noon in his official car accompanied by his uniformed security team on board a Serena pick-up vehicle.
After being cleared by the Immigration office, drama unfolded when dignitaries and his team were held for over 20 minutes due to poor coordination between Kenya and Uganda security agents.
Consultations were carried out from both sides with allegations that the deputy Speaker was on his private visit despite official flag mounted on his car.
Although the Uganda security escorting Oulanyah were not armed, they were in official uniform to confirm that the visit was official. That alone perplexed the Kenyan security agents who made several consultations on the way forward.
Teso OCPD Elphas Korir admitted that the deputy Speaker was on his private visit, adding that lack of coordination caught them unaware.
Malaba Uganda security agencies were also caught unawares with the Oulanyah's visit, admitting that the team surrendered arms at the station before crossing into Kenya.
Oulanyah declined to talk to the press and promised to address them when he returns from the visit to Molo where he was taking his children to school.
Kabaka Ronald Mutebi makes private visits to Kenya every year but Kenyan security agencies are informed in advance.