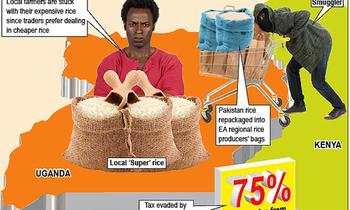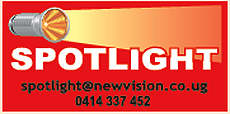 By Chris Kiwawulo
Ugandan farmers are counting losses due to continued smuggling of rice, especially from Pakistan, thereby exposing the country to tax losses worth billions of shillings.
New Vision investigations have established that some unscrupulous businessmen import Pakistani rice which they repackage in bags with East Africa region rice producers' labels before it crosses into Uganda. 
This makes the imported rice cheaper than the locally produced one, leaving local farmers stuck with their rising yields since traders prefer dealing in cheaper rice. The smuggled rice is repackaged to appear as if it originates from East Africa.
Rice within the East African region can cross borders tax free, but the smugglers use this advantage to evade the 75% tax levied on rice from outside East Africa. 
The East African Community (EAC) designated rice as a sensitive product and set a tariff of 75% on its imports in the year 2004/2005.  This was intended to promote local production since the region had adequate capacity and potential to meet the demand.
Only Kenya, importing under an EAC temporary exemption that reduces the tariff to 35%, was allowed to continue importing substantial rice quantities (300+ thousand tonnes) during the current and upcoming marketing years, because it has limited capacity to produce rice. 
Sources privy to the smuggling racket revealed that repackaging takes place within warehouses in Mombasa and Kisumu and that the rice crosses via the Busia border. The source said rice smuggling is a big racket sucking in some corrupt customs officials from URA. 
According to data released by Uganda Revenue Authority (URA) last July, the country could be losing as much as $703m (about sh1.8 trillion) annually to smuggling, which is up to 30% of the annual tax revenues.
Sarah Banage, the URA assistant commissioner for public and corporate affairs confirmed that rice was among the highly smuggled goods into the country. 
"We cannot know how much has been smuggled unless we impound the goods," Banage said, adding that they had put in place preventive measures like heightening surveillance, fines, intelligence-led interventions and stakeholder sensitisation among others.
Earlier, Paul Kyeyune, URA's head of public and corporate affairs said they were investigating possibilities that some of their staff were colluding with smugglers, adding that those found culpable would face punitive action.
A survey done in Kampala city centre established that there were at least four brands of rice from Pakistan on the market namely; SWT, SND, Mable and Balwa. 
However, these brands were found selling at different prices at some of the biggest wholesale shops visited in the New Taxi Park and downtown Kikuubo. At some shops, a 50kg bag of the Pakistani rice was selling at sh140,000 (sh2,800 a kilogramme) while it was at sh160,000 (sh3,200 a kilogramme) at others irrespective of the brand. 
New Vision also found out that locally produced rice commonly known as 'Super' was selling at sh160,000 a 50- kilogram bag (sh3,200 a kilogram). This means some of the imported Pakistani rice was being sold cheaper than locally produced tax-free rice by at least sh400 per kilogramme.
The EAC rice report says the current national wholesale local rice prices in the major cities within the EAC should reflect and be comparable to the cost, insurance and freight (CIF) value of imported rice landed at the ports of import, Dar Es Salaam or Mombasa plus the duty and the cost of internal transport and handling. But this not true due to smuggling, farmers say.
This has left several farmers and genuine traders wondering how imported rice subjected to a tariff can possibly be cheaper than the locally produced tax-free rice. 
Daniel Lubega, a rice farmer in Nairambi, Buvuma Islands said they are worried about the falling rice prices yet the prices are not reflected on the market. Lubega, who said they had increased production of upland rice from as low as five bags when they started out in 2005 to between 70 - 80 bags per farmer every season currently, noted that the middle men were also ripping them off.
He said the middle men buy milled rice from them at sh2,000 a kilogramme, but was surprised to find that wholesalers sell it at sh3,200.
"I put in a lot of labour to grow rice but when I get little pay or no buyers at the end of the day, I will be forced to abandon rice farming for something else," said Lubega, who heads a group of over 30 farmers with similar output. 
A city rice dealer, Wisdom Tibwita, observed that smuggling was not only causing loss of revenue to the Government but was also a big challenge to non-smugglers and farmers. "Some of us buy imported rice at high prices but you find other traders selling the same rice at lower prices.  This will drive us and local farmers out of business very soon."
Tibwita warned that if farmers stop growing rice, there could be a serious food shortage in case rice producing countries that supply Uganda get a deficit as this would force them to stop rice exports to Uganda so as to meet their local demand. 
Is Uganda producing enough rice for local consumption? 
After seven years of producing rice under the 75% ad-valorem tariff structure, EAC rice producers (except for Kenya) reportedly gained significantly, according to the EAC rice review report released in May.
The report says consumption of milled rice in Kenya, Tanzania, Uganda, Rwanda and Burundi increased from 1,216,023 metric tonnes in 2004 when the tax was introduced to 1,745,000 tonnes this year. The area of land where rice is harvested also rose from 751,120 hectares in 2004 to 1,687,000 hectares this year. All these developments are as a result of the 75% ad-valorem tax. 
Local consumption 
In Uganda, consumption of milled rice rose from 124,347 tonnes in 2004 to 193,000 tonnes today. In the last 10 years, the consumption has increased by 104,562 tonnes from 88,438 in 2001 to 193,000 tonnes. This is projected to rise to 195,000 next year. The area cultivated also rose from 93,000 hactares in 2004 to 150,000 hectares today.
According to data from the Food and Agricultural Organisation (FAO), the per capita consumption of rice is estimated at 8kg, producing a total consumption of 224,000 metric tonnes by the population of 28-30 million, which is growing at 3.2% per annum. About 80% of rice farmers are small-scale farmers with less than two hectares, and women play a major role in rice production.
Paul Mwebe, an economist and rice dealer, noted that consumption of rice has grown in Uganda and East Africa as a whole, due to its easiness to prepare and the relatively low prices. 
He called on the Government to protect local farmers, arguing that the rice industry if nurtured well is capable of contributing tremendously towards food security and development of the economy.
Food security
The goal of Uganda's National Rice Development Strategy is to increase household food security and reduce household poverty through increased production of high quality rice, coupled with specific targets of achieving self-sufficiency in 2013 with 335,400 metric tonnes of production and generating a surplus by 2018 at 540,150 metric tonnes. 
This will entail increasing the number of rice researchers from nine in 2008 to 30 in 2018, research technicians from 10 to 30 and extension workers from 63 to 160. 
JICA, FAO, the World Food Programme, African Development Bank and IFAD are supporting Uganda's rice development.
In his quest towards promoting local farmers, President Yoweri Museveni has time and again rooted for support of local farmers in an effort to develop agriculture in the country. The president also assented to the EAC common external tariff to promote local production and meet the demand. 
However, if smuggling remains unchecked, analysts argue that local farmers will be subjected to unfair competition and that the national goal may not be achieved even if all the interventions have been put in place.