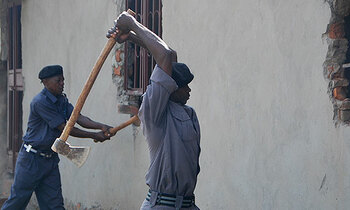 By Donald Kiirya

JINJA Municipal Council Thursday demolished illegal structures that were constructed in Walukuba wetland which stretches along the Tobacco play ground in Jinja.

The demolition exercise was led by Jinja town clerk Francis Barabanawe in company of law enforcement officers from the Municipality and Police commanded by Jinja DPC Jonathan Musinguzi which was guarding them during the exercise.

"Most of the structures are illegal, they have been here for close to three years and there's no need of people to continue constructing structures at night without Municipality officials knowing. We are demolishing them because there is a case in court which is still under investigations," said Barabanawe.

During the exercise done by enforcement officers, a group of residents mainly youth who claimed to have plots in the wetland joined in the exercise. They demolished a houses belonging to Safani Walube, an Electrician at the Municipal council which was located at plot 8,9 and 10. They further knocked down a foundation of a house on plot 45 belonging to Epaphras Kabugudho.

However during the demolition exercise, residents got concerned why the town clerk was selective in demolishing other houses belonging to Municipality officials who included his deputy Jophram Waidhuba and a flat belonging to Robert Kitimbo, a former surveyor with the council.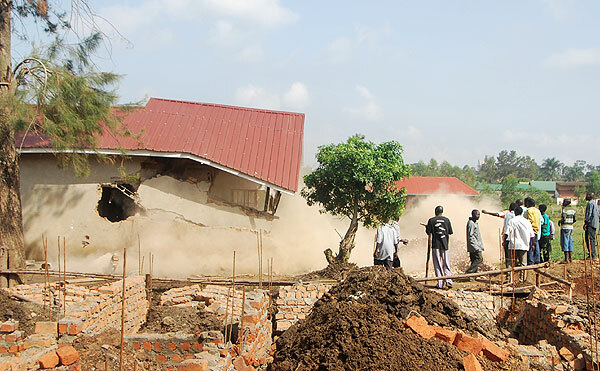 An illegal structure erected in a wetland pulled down. Photo by Donald Kiirya

Residents wanted to demolish Waidhuba and Kitimbo's houses but they were stopped by the town clerk and enforcement officers, a thing which sparked off an argument and exchange of bitter words.

They threatened to beat up the town clerk and enforcement officers who were aboard a Municipality pick up truck registration number LG 0073-12 after the exercise but thanks to the Police which was available and monitoring each and every move planned by residents.

Resident who had machetes, hoes, iron bars and pangas had picked stones and were ready to haul them at the town clerk and his enforcement officers and as they got closer to the pick up vehicle, as the situation was about to get out of hand, the Jinja DPC Jonathan Musinguzi ordered his men to fire tear gas which dispersed them.

They fled to near by bushes and others were seen entering incomplete structures.  
The situation was calmed later and Police managed to arrest two culprits over inciting violence. They were taken to Jinja Police.