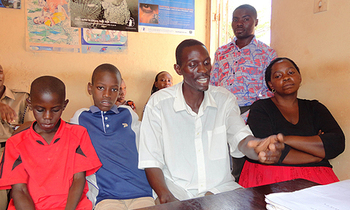 By Benedict Okethwengu
Five years ago when she took the initiative to buy Marvin Jakisa, 10, Moses Kisakye, 11 and Janet Ruth Natukunda, through her sister Pauline Rachiwu, who resides in Kampala, Joyce Atim, was quite assured of a decent burial that would be accorded to her by her adopted children, according to her neighbours.
But it is now almost 14 days, since Atim and her husband Totin Omwon and Beatrice Nyamungu were taken to Nebbi Police Station for acquiring the children.
The resident of River View ward decided to hand over the children to their father, Kenneth Mpiima, a builder residing in Katooke village, Nansana, shattering her dream of having children.
Atim's neighbour said the love she showed the children cannot be equalled.
"Joyce would always tell me, 'look here Jane these are my children who shall bury me, I must keep them well,' and for sure even I have not shown love to my children the way she did," said Jane Okethwengu, 50, a mother of seven.
She is corroborated by Gimton Aguta the O/C Nebbi Police Station who said the departure of the children left Atim with a deep wound.
"She is really saddened by the loss of the children. There was no outfit that she did not buy for the children and at times you would see her carrying Janet on her back," recounted Okethwengu.
She said Atim took the three children to St Monica Nursery and Primary School, the best and most expensive school in Nebbi town.
Atim hardly punished the children but would only guide them by telling them the right way to behave. they said.
Okethwengu recounted how Atim made Jakisa and Natukunda her page-boy and flower-girl at her wedding in 2010 at Nebbi Cathedral.
"I would disagree if somebody told me that Atim did not raise those children well," Okethwengu said. She appealed to Mpiima to 'have a heart' and send the children back, because Atim had invested a lot of love in them.
She said Atim was constructing a house for Kisakye.
But when Saturday Vision visited Atim at her home this week, she refused to cooperate and was hostile. "Leave my home now before I hurt you," she said.
"Why are you coming now? Why didn't you come on the day it happened?"
Dosantos, the area LC1 chairperson, said: "I cannot comment about the issue because there has been a lot of injustice in the matter."
He did not elaborate on the injustice.
Okethwengu, however, said Atim needs prayers and professional counselling.
She added that Atim needed advice on the proper procedure to follow to adopt children.
Mpiima alleged that Rachiwu duped him into selling his children. He claimed that she promised to take them to an organisation which would help educate them.
It is was reported that Rachiwu got sh350,000 for each child.