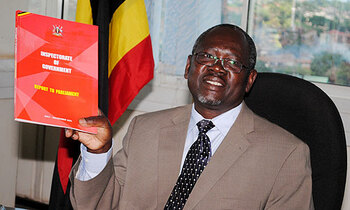 By Raymond Baguma     
                             
A total of 64 public officers were arrested for corruption-related offences by the Inspector General of Government (IGG) and charged in courts of law in the last one year.

According to the IGG's 26th report to Parliament, between July and December 2011, the inspectorate received or initiated 1,254 complaints including 72 investigations that arose from 163 audit reports. Of these, 836 were corruption cases accounting for the highest number of complaints.

The officials were arrested for offences that included abuse of office, soliciting and receiving gratification, causing financial loss, theft, uttering false documents, embezzlement, false accounting. Other offences included bribery, conspiracy to defraud, obtaining goods by false pretense and disobedience of IGG's summons.

Among the charged officials were cabinet foreign affairs minister Sam Kuteesa, Government Chief Whip John Nasasira and the Labour State minister Mwesigwa Rukutana.

The three ministers were charged with abuse of office charges relating to the mismanagement of the funds meant for Commonwealth Heads of Government Meeting in 2007. However, the Constitutional Court recently stopped the IGG from prosecuting the three ministers because the inspectorate is not fully constituted.

Others public officials arrested and charged for corruption-related offences within the period included Lt. Santos Okot Lapolo the Kitgum resident district commissioner, police officers, district chairpersons and district local government officials.

While addressing journalists at his office Wednesday, the deputy IGG Raphael Baku said the inspectorate is facing a backlog of complaints that have not been resolved.

A total of 5,385 complaints including leaders' verifications were received. Out of these, 4,120 cases had been brought forward from the previous reporting period. Of these, the inspectorate investigated and completed a total 898 complaints and verifications. Also, 138 complaints were processed and referred to other institutions.

The inspectorate prosecuted a total 149 cases. Out of these, 110 were old cases, while 39 were new cases. There were also appeals resulting into acquittals as well as upholding of convictions. Other cases were dismissed while others were withdrawn.

However, Baku said that the inspectorate faces challenges in carrying out its roles because of underfunding and understaffing. "Corruption is becoming more sophisticated and it is challenging for our officers who are not trained," Baku said.

Baku also said that the public has high expectations from the anticorruption agency. However, the public does not report corruption incidents in their knowledge, while others decline to testify as witnesses in corruption cases.