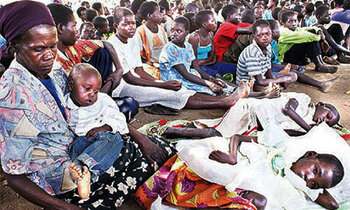 By Vision Reporter

The Government has delivered medical supplies worth sh150m to people affected by the nodding disease in northern Uganda, information minister Mary Karooro Okurut has said.

Karooro disclosed on Thursday that the affected districts had submitted requests for funding worth sh600m to manage the disease up to December this year. She said the districts had so far received supplies worth sh52m, of which Pader got sh18.4m, Kitgum Hospital sh24.5m and Lamwo sh9.4m.

Up to 1,896 patients have been screened at treatment centres, of whom, 1,081 cases were confirmed having the nodding syndrome, the minister said in a press statement. A total of 713 patients were epileptic and there were 102 admissions.

The Government has trained 99 health workers on management of the disease, 23 at Kitgum Hospital, 16 at Lamwo and 40 in Pader.

The health ministry has deployed a medical doctor in Atanga Health Centre III to strengthen the team managing the syndrome. These work with 123 other health workers to improve surveillance, identification and reporting of cases.

For easy access to health centres, the ministry procured four 14-seater vans and eight motorcycles.

The Government has also distributed 206 metric tonnes of relief food and also given out therapeutic feeds to families of the affected children.

The supplies are expected to feed the families for at least 14 days, Karooro said.