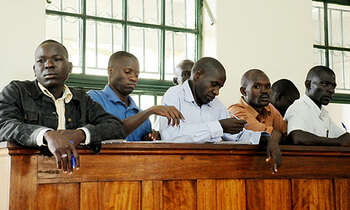 By Andante Okanya   

The 13 people accused of plotting to overthrow Government between 2006 and 2009, are on May 30 expected to know their fate.

Yesterday at the High Court in Kampala, trial judge David Wangutusi said he would rule on whether the accused have a case to answer or not. The judge said so after both prosecution and the defence completed making submissions.

Last Thursday, the defence pushed for the acquittal of the accused after labelling the prosecution evidence as weak. The defence lawyers are Ladislaus Rwakafuuzi, Darlton Opwonya,Yunus Kasirivu, Musa Ssembajja, and Saudah Nsereko.

Prosecution led by Senior Principal State Attorney Joan Kagezi and State Attorney Sam Oola, alleges that they committed the offences in eight districts of Kampala, Masindi, Gulu, Pader, Kitgum, Nebbi, Apac and Amuru.

The accused are Alex Okot Langwen, the son of one of the top commanders of the Uganda National Liberation Army, the late Lt Gen Bazilio Olara-Okello, journalist Patrick Otim, Patrick Komakech(peasant), Patrick Komakech(student), Patrick Okello, Jimmy Oceng Opoka alias Billy, and Alfred Lubel Olanya.

Others are Lt. Phillip Okello, Michael Obol, Sgt.Deovelente Menya, Francis Akena, John Otim, and Frank Abonga. They are charged with treason and concealment of treason, contrary to Section 23 and 25 of Uganda's Penal Code Act respectively.On conviction, the maximum sentence for treason is death, while that of concealment is life imprisonment.
Yesterday, Kagezi submitted that the 30 prosecution witnesses.

The accused allegedly formed the Uganda People's Front (UPF), and purportedly obtained satellite phones, Global Positioning System (GPS) machines, solar panels, black polythene sheets, gum boots, laptops, walkie talkies and fire-arms.