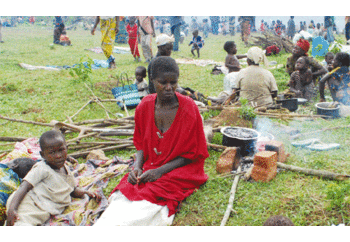 By Hope Mafaranga
Tension is high in Rwamwanja refugee settlement, Kamwenge district after government settled the Congolese refugees in the camp.
As many as 7,000 refugees have fled fighting between rebels and DR Congo forces into Uganda.
The camp was occupied by Rwandan refugees.
When they returned home, locals occupied the land. Kamwenge LC5 chairman Robert Kamasaka said there were more than 1,700 households with a population of 130,000.
When government needed the land for refugees again, the residents rose up in arms and threatened to spill blood if any evictions were made.
Government originally planned to resettle the refugees a month ago, but delayed the project after the residents went to court to seek a caveat.
On April 12, court halted the eviction of the over 30,000 people, who government said had encroached on about 40 square miles of land.
Parliament also visited Rwamwanja last month and issued an order, halting eviction until it completes its investigations.
Francis Bafakai, a settlement officer in the Prime Minister's Office, said they did not intend to displace anyone. "We are only settling the refugees," he told New Vision online.
By Thursday, some residents were seen relocating away from the land.
Ronald Muhwezi of Ntenungi village, who packed his family off said he did not want to lose his family and animals in case of a clash.