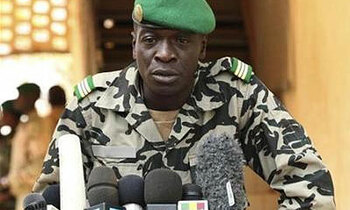 PARIS/BAMAKO - Mali's military rulers on Wednesday postponed a national convention to end a crisis sparked by a coup, which has led to international isolation and allowed rebels to seize control of the northern half of the country.
Colonel Moussa Coulibaly, an adviser to the head of the junta, said the talks, which political parties and civil society groups had earlier said they would boycott, were postponed to provide more time for preparations.
"Given material difficulties and the short time we had to prepare for it, we have decided today ... to postpone the convention to a later date in order to better organise," Coulibaly said, adding that a new date will be announced later.
France and the United Nations warned that the seizure of northern Mali by rebels was playing into the hands of local al Qaeda units, with Paris urging Algeria and other neighbours to do more to tackle the threat.
Mali, long one of the most stable democracies in West Africa, was plunged into turmoil by a March 22 coup, led by low- and mid-ranking officers frustrated with President Amadou Toumani Toure's handling of a Tuareg-led rebellion in the north.
Junta leader Captain Amadou Sanogo has shrugged off trade, diplomatic and financial sanctions imposed by Mali's neighbours and proposed a convention to map out a return to civilian rule.
But a grouping of 50 political parties and civil society organisations rejected the idea on Wednesday, saying it would not produce a legitimate government. "The holding of the convention is contrary to and incompatible with a return to constitutional order," the grouping, known as the FDR, said.
Regional bodies and Western powers, most of which have frozen aid, want the army to step down before sanctions are lifted.
Sanogo has said the main reason for the coup was to restore security to the north, but separatist northern rebels exploited the leadership vacuum to seize the north of the country.
They have been joined by Islamists bent on imposing Islamic law, sharia, throughout the moderate Muslim state, the latest security worry for a region battling organised crime and home-grown militant groups such as Nigeria's Boko Haram.
"We fear that in this confused situation al Qaeda in the Islamic Maghreb (AQIM) will take advantage of the situation to expand its perimeter of activity and strengthen the terrorist threat," French Foreign Ministry spokesman Bernard Valero said.
AQIM is a mostly autonomous wing that emerged from the Algerian Salafist movement in 2007. The group, believed to have a few hundred members, has taken advantage of weak central government and poverty to mount sporadic attacks on local armies and kidnap Westerners, earning millions of dollars in ransoms.
The rebellion is also likely to complicate efforts to secure the release of six French hostages held by the group.
Qaeda's links
The most prominent of the rebel fighters are the MNLA, fighting for a separate state in north Mali. But Ansar Dine, a local Islamist group trying to impose sharia, is also present.
"Our fear is based on AQIM's endemic presence in the region and the links we know between AQIM and Ansar Dine," Valero said, calling on Mali's neighbours to work together to prevent the rise of Islamists in the region.
The MNLA have said they only want to control the northern regions of Kidal, Gao and Timbuktu in a desert nation called Azawad. It is not clear how far Ansar Dine is ready to push.
A junior officer in the central Malian town of Mopti, 400 km (250 miles) northeast of the capital Bamako, said earlier there were signs of rebel activity there, sparking fears of an attack.
But there were no further reports of movements on Wednesday.
A resident of Gao told Reuters by telephone: "All the banks have been smashed up, the health centres have been smashed, everything has been destroyed, all the administration centres have been burned, the army is totally absent, there's no medicine.
"It's the Tuaregs who are in control, they tell people to stay at home. It's a real catastrophe, they say in three days' time there will be no more fuel or electricity."
From the same city, a woman called Fanta reported:
"The shops are closed, the banks are closed and it is not clear who is in control. There are too many armed people around and we are afraid to go out."
Former colonial power France has advised its 5,000 citizens living in Mali to leave. The United States said it was authorising the departure of non-emergency embassy personnel and families.
Before the coup, West African leaders had been considering sending a force to help Mali secure its north, where rebels, Islamists and smugglers have long mixed.
The regional bloc ECOWAS is still looking at plans for a force, but officials say the Mali junta would have to stand down before outsiders would help Bamako.
Junta chief Sanogo, in comments published on Wednesday in France's Le Monde newspaper, said securing the north was the key issue, not democracy.
"The danger is not just for Mali. Let us forget the (junta). Parliament and the Constitution can wait. The serious issue is the north. That is what is most important," he said.
"We know who the enemy is and it is not in Bamako. If a force must intervene it knows where it should go - up (north)." (Additional reporting by Tiemoko Diallo in Bamako; Writing by David Lewis; Editing by Andrew Osborn)