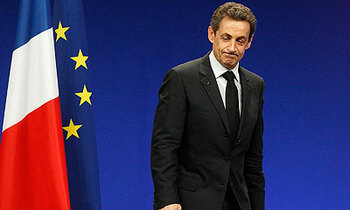 By Paul Taylor

The shootings of French soldiers and Jewish schoolchildren by a home-grown Islamist gunman killed by police have upended France's election campaign and resurrected conservative President Nicolas Sarkozy's prospects.

The first opinion poll to be taken since Mohamed Merah, 23, committed his third and deadliest attack at a Jewish school in Toulouse on Monday showed Sarkozy surging past Socialist challenger Francois Hollande in the April 22 first round.

Hollande leads by eight points in voting intentions for the May 6 runoff, but the gap has narrowed and the Toulouse killings have thrust the issues of security and integration of immigrants to the top of the political agenda.

That plays to Sarkozy's strengths, political scientists and campaign advisers say.

Jerome Sainte-Marie, director of political studies at the CSA polling institute which took the survey, said Sarkozy's two-point gain, largely at the expense of far-right candidate Marine Le Pen, showed that people naturally rallied behind the head of state in times of crisis.

The bounce could prove short-lived, he told Reuters Television in an interview, and the campaign may soon return to the underlying issues of unemployment, social welfare, living standards and pensions on which the left had been leading.

Sainte-Marie cited the example of former President Francois Mitterrand, whose popularity hit a peak during the 1991 Gulf War in which France participated, only to plunge to record lows after the last shot was fired.

"However it is also possible, since this shift had already begun, that Nicolas Sarkozy manages to turn the whole campaign around to his own agenda, which is about order, values, immigration, integration, security and national identity."

Police commandos stormed Merah's apartment on Thursday after a 30-hour siege and shot him dead in an exchange of fire in which two policemen were injured.

Within two hours, the president had announced new measures to combat Islamist indoctrination and recruitment via the Internet, through foreign travel and in prisons.

RIGHT TURN

Before the shootings, Sarkozy had courted controversy by turning sharply to the right in a March 11 speech declaring there were too many foreigners in France and vowing to rewrite or walk out of the European Union's Schengen open-border system.

"Of course what has happened in the past week has changed the course of events," a senior Sarkozy campaign adviser said, speaking on condition of anonymity.

"There wasn't much talk about security and terrorism before. But this is going to raise questions about our system of integration, our approach to fundamentalism and our tolerance of certain practices here. You're going to hear a lot about that in the weeks to come," he said.

The Toulouse siege revived memories of an episode early in Sarkozy's career, when in 1993 he entered a nursery school where a gunman with explosives calling himself the "Human Bomb" had taken a class of children and their teacher hostage and negotiated for their release. Sarkozy emerged carrying a child.

Police later shot the gunman dead and freed the remaining children unharmed, and Sarkozy, who was mayor of the Paris suburb of Neuilly, became a national hero.

DEFAULT WIN

Both Sarkozy and Hollande suspended campaigning after Monday's shooting and called for national unity.

But while the incumbent was shown on television supervising the manhunt, comforting mourners, bringing together religious leaders and delivering a moving eulogy, his rival was confined to playing shadow president, following in Sarkozy's footsteps but without his powers.

For months, it seemed Hollande only needed to avoid a serious blunder to win by default against a president whose brash style, disappointing economic record and unpopular austerity policies seemed to doom him to defeat.

Now the left's plodding standard-bearer needs to find a way to wrest the campaign initiative back.

Although Hollande has avoided criticising the government, Sarkozy's supporters have resumed attacks on the Socialist contender, accusing him of being "in denial" about the threat from Islamist militancy.

"Francois Hollande never made security a priority in his programme," Jean-Francois Cope, leader of Sarkozy's UMP party, told the daily Le Figaro. "In the face of this tragedy, I call on Francois Hollande and his Green allies to maintain the appropriate dignity."

As if on cue, the same conservative newspaper launched a front-page editorial broadside against the Socialists on Tuesday, linking the Toulouse attacks and Islamist militancy to the left's alleged embrace of multiculturalism.

"Hasn't (Socialist Party leader) Martine Aubry taken her fascination with communitarianism as far as to set special hours aside for women in the swimming pools of Lille?" Le Figaro said.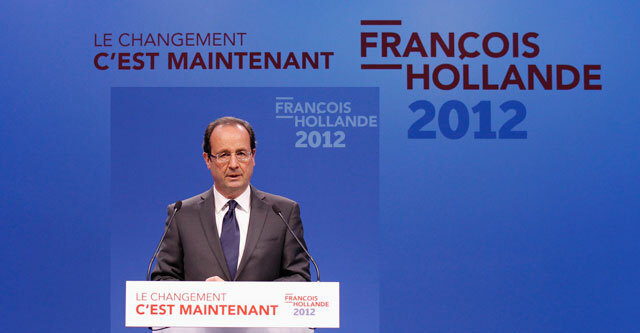 Francois Hollande
STATESMANLIKE

Hollande's campaign advisers say his best hope is to remain statesmanlike in the face of such attacks and try to refocus the campaign patiently on bread-and-butter issues about jobs, schools and reviving economic growth.

Meanwhile, Sarkozy faces a fight-back from the far right, with Le Pen questioning possible security lapses in the handling of Merah, and charging that the government has been soft on Islamism and lost control of many tough urban neighbourhoods.

"The government is scared," she said on Thursday. "I've been saying this for 10 years. Entire districts are in the hands of Islamic fundamentalists and I say it again today, the danger is underestimated."

She demanded to know why the security services, which had been tipped off to Merah's two visits to Afghanistan and Pakistan, had not kept him under tighter surveillance since his return last year, suggesting they had been diverted to snoop on journalists and political opponents.

Centrist candidate Francois Bayrou, who refused to suspend his campaign, implicitly blamed Sarkozy for creating a climate of "stigmatisation" of immigrants and said the role of the president should be to unite society, not divide it.

The president needs to pick up votes from supporters of both these candidates to beat Hollande in the runoff, and the Toulouse shootings may help him score points with both camps.

His firm handling of the manhunt and immediate announcement of new measures to combat militancy may please right-wing and nationalist voters, while his emphasis on national unity and interfaith dialogue may appeal to centrists. (Additional reporting by Emmanuel Jarry and Pauline Mevel; Writing by Paul Taylor; Editing by Giles Elgood)