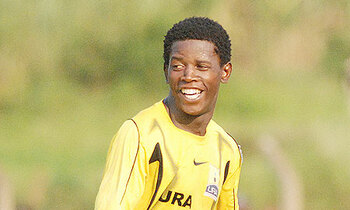 By Swalley Kenyi 
CAF Champions League, first round 
Saturday 
URA v Djoliba, Namboole  -4:00PM
Charges: stands sh3000, pavilion sh10000 
URA FC coach Alex Isabirye believes he has done enough ground work to tame high flying Malian champions Djoliba when they clash in their first round first leg CAF Champions League at Namboole on Saturday. 
Although the youthful coach is cagey about his approach to the game, he believes that Djoliba AC, who have featured in the continental competition eight times compared to URA's three will turn out to be another ordinary side at Namboole. 
But he was physically uneasy when journalists asked him about how much he knew of their opponents coached by Algerian Abdelmalek Aït Ahcene. 
Aït Ahcene will be leading his squad more than half of whom is composed of national players including midfielder Souleymane Dembele and Striker Ibrahima Bangoura.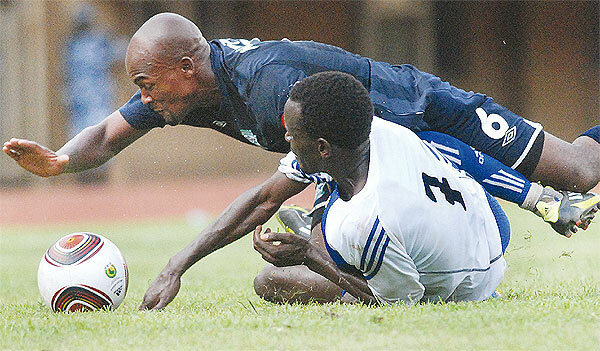 URA's Vincent Kayizzi shoulders the weight of Lesotho Correctional Services captain Khoto Sesinyi (6) during their Champions League preliminary round qualifying match at Namboole last month. URA hosts Mali's Djoliba on Saturday
Like URA, Djoliba lead their premier league table and have not lost their last 15 premier league matches. 
"I don't want press to think that Djoliba is so high there and that we cannot beat them. They (Djoliba) must have started from down like us to reach where they are today. It is the same route we are taking and we will get there," Isabirye promised. 
While his team captain Manco Kaweesa has promised to continue his scoring against Djoliba come Saturday, echoing Isabirye's promise, the coach will throw caution in the air to attack. 
The team jets in on Thursday morning. Zimbabwean referee Ruzive Ruzive assited by Gadzikwa Bongani and Salani Ncube will officiate the match. 
The coach has taken URA to the first round of CAF Champions League for the first time after the club's three failed attempts previously.    
Isabirye received a timely boost on Monday when striker Augustine Nsumba returned to training after a bout of malaria. "He has started training and I am hopeful that he will gain full fitness," said Isabirye.
Nsumba's training compliments the return of skipper Kaweesa also from injury which he picked during the preliminary qualifying match at Namboole. He was on the sidelines during the return leg in Maseru as URA advanced 3-0 on aggregate.
URA overcame Lesotho Collection Services in the preliminaries while Djoliba AC got a bye to the first round.
The tax collectors have meanwhile dropped plans to take their players into camp in preparation for the match against Djoliba who got a bye to the first round.
The local champions had planned to enter into a three day camp but club secretary Henry Mayeku said they called off the plan because it was 'useless'.
He argued that in the three previous years, the club pent lots of money, yet the team failed to go past the preliminary round.