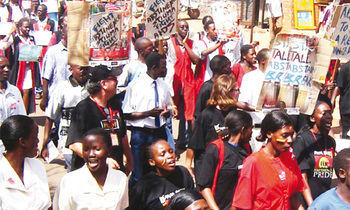 The number of Ugandan boys and girls keeping their virginity is steadily going up, according to the results of a newly released survey. 
The Uganda AIDS Indicator Survey 2011 preliminary report, released on Friday, indicates that more than two thirds of the boys and over half of the girls aged 15-19 have never had sexual intercourse. 
Among boys in this age bracket the percentage of virgins rose from 52% in 1995 to 61% in 2000. It then declined slightly to 58% in 2005 before increasing significantly to 66% in 2011.
Among the girls, the percentage of virgins in this age group rose from 38% in 1995 to 48% in 2000 and 54% in 2005. It has since remained steady at around 54%.
The survey was conducted by the Ministry of Health, Uganda Bureau of Statistics with the support of several American and European development organisations as well as the World Health Orgnanisation (WHO). 
The organisations involved included the US-based ICF International, United States Agency for International Development (USAID), Centres for Disease Control and Prevention (CDC), President's Emergency Plan for AIDS Relief (PEPFAR), Danish International Development Agency (DANIDA) and the British Department for International Development.
Dr. Alex Opio, assistant commissioner for national disease control, explained that the rise in virginity was a result of concerted anti-AIDs campaign by various stakeholders. He, however, said they would be happier with 100% virginity in that age bracket. 
"Our teaching is that there should be no sex before marriage. This (rise in virginity) means our messages are working. Next time we want to see it rising to 70%. The ultimate figure should be 100%."
He explained that there are fewer female than male virgins because of the social problems that girls face. They drop out of school earlier and are often not empowered to resist the numerous forceful advances from men. "That is why we are advocating for gender empowerment," he said.
In the survey, a total of 9,588 people were interviewed countrywide and subsequently tested for HIV. Of this number, 2,089 were in the 15-19 age bracket. The sampling was scientifically done to ensure it is nationally representative.
Respondents were asked various questions to gauge their level of knowledge as well as attitudes about HIV. They were also asked personal questions regarding their sexuality.
According to the report, the interviewers took time to explain to them the importance of being truthful, emphasizing that the information was important for national panning but would not go into their personal records.
The same survey established that Kampala men are most faithful to their sexual partners. Of the respondents in Kampala, 11.3% had had more than one sexual partner in the previous 12 months, which was lower than any other region.
Busoga region was the highest, with 30.5% of the men confessing that they had shared a bed with more than one woman during the previous 12 months. 
This was followed by the mid-western region with 23.6%, the southern parts of Buganda region with 21.2%, northern parts of Buganda with 17.1% and eastern region with 15.8%. 
Midnorthern region followed with 15.5%, the Teso and Karamoja region 14.5%, south-western region 13.5% and West Nile 11.6%.
Women with multiple sexual partners were most common in Busoga, where 6.7% indicated that they had shared a bed with more than one sexual partner during the preceding one year. 
This was followed by Kampala women at 5.4%, southern part of Buganda with 4.5%, eastern Uganda with 3.9%, and northern parts of Buganda with 3.1%. 
The most faithful women appear to be in south-western Uganda, where only 0.9% had had more than one sexual partner in the preceding one year.