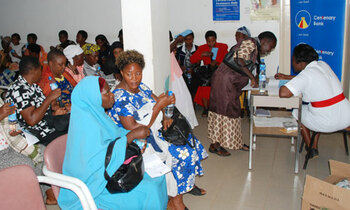 By Mark Owor in Mbarara          
A total of 320 women in Mbarara were on Saturday screened and tested for breast and cervical cancer at Mbarara referral hospital in western Uganda.            
It follows a partnership cancer awareness campaign between Centenary Bank and Rotary International last year to organize cancer vaccinations, testing, sensitization and referrals to access proper medical facilities.
 "Last year we launched a three-year anti-cancer initiative campaign in partnership with Rotary International to construct a two-storied cancer ward worth sh330m at St. Francis Hospital Nsambya," the corporate affairs and communications manager, Allen Ayebare said.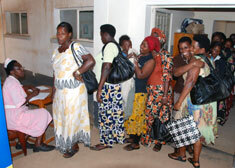 "The partnership includes holding of 12 community days spreading across the country during which cancer vaccinations, testing, sensitization and referrals to hospitals will be done as well as enhancing public awareness about early diagnosis and treatment options for cancer," Ayebare stressed.
She was on Saturday addressing to the media at Mbarara hospital, where she noted that statistics indicate that the median age of a person diagnosed with breast cancer in Uganda is 45, cervical cancer 43 and prostate cancer 50.
She explained that only 45% of breast cancer patients and 18% of cervical cancer patients survive five years after diagnosis, which researchers attribute to late diagnosis due to ignorance and lack of technology.          
"Mulago national referral Hospital has for a long time been the only hospital equipped with the necessary machinery and technology necessary for cancer screening,"Ayebare added.
She cited this as one of the reasons why Centenary Bank and Rotary International partnered to set up an alternative cancer facility at Nsambya Hospital.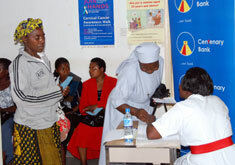 Alexia Namuli, the nursing officer at Mbarara hospital said the intervention was a timely one as more and more Ugandans are more vulnerable to death from cancer-related illnesses because they lack awareness of early detection.
Namuli said the initiative is aimed at supplementing the current cancer prognosis and treatment facilities in the country and also increasing the number of cases of Ugandans who regularly go for cancer testing. 
"The secret in the treatment of cancer lies in early detection."