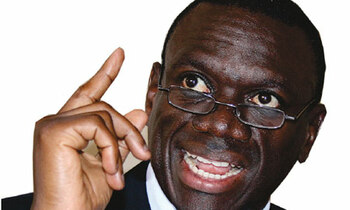 To mark 50 years of Uganda's independence, New Vision will, until October 9, 2012, be publishing highlights of events and profiling personalities who have shaped the history of this country. Today, JOSEPH SSEMUTOOKE looks at the past and present of Col. Dr. Kiizza Besigye

Some consider him a necessary and efficient auditor of the ruling NRM government, keeping it in check through his activism. Others consider him the next president of the country, still believing that he will ultimately unseat the NRM Government and President Yoweri Museveni to take over State House.

Others consider him a loyal and intrepid nationalist, who has risked all he ever had for his country. While yet, some consider him a mere detractor to a government that is leading Uganda on a relatively correct path. Others think he is a mere power-hungry individual with a goal to rule the country at all costs. He himself says his mission is, "To work with millions of other Ugandans in bringing about a stable democratic and peaceful Uganda."

The perspectives of him are simply innumerable. But perhaps, what will be his crowning legacy at the end of his political career, is having been the most formidable challenger of President Museveni and the NRM Government. For now, he also stands as the country's most fiery ever opposition leader; that is if we are to consider only those who have opposed democratically and leave out those who picked up the guns and thus would better be called "rebels" than opposition leaders.

Elections
As far as Ugandan presidential elections are concerned, Besigye holds the record of having lost more times than anyone who was ever a presidential candidate. He has lost three consecutive presidential elections to President Yoweri Kaguta Museveni, in 2001, 2006 and 2011.

But in there, he also holds the record score for a runnerup of a direct presidential election in Uganda, having scored 37% of the vote against incumbent President Yoweri Kaguta Museveni scored 59% in 2006. His 2001 and 2011 scores of 27% and 28% are also respectively the secondhighest and third-highest scores for a runner-up of a direct presidential election in Uganda. That makes him the person who has come nearest to democratically unseating a ruling government in Uganda. For his choosing to challenge the NRM leadership democratically (other than going to the bush like Kony and Lakwena), Prof. Aaron Mukwaya says Besigye should be hailed for having contributed to the democratic growth of Uganda.

Fiery activist
Besigye has even repeatedly said he will take up the gun and fight the government in case it overthrows the constitution. For his activism, Dr Besigye has been repeatedly arrested and charged with inciting violence. His most recent attempts to stage a series of 'walk-to-work' protests over the rising cost of living, have been fiercely clamped by the Police and military. But Besigye has said it all exposes the brutality of the police and military.

Renegade NRM historicals
Besigye is a renegade of the NRM Government, who says he broke off because the system and its leader Museveni had veered off the right track, which they had taken after coming to power. He says he broke off, "To say no to cronyism, corruption, personal rule and to say yes to democratisation."

Shortly after his graduation from university in the late 1970s, Besigye was one of the founders of the Museveniheaded Uganda Patriotic Movement, which performed poorly in the 1980 elections. Museveni said the elections were rigged. Thereafter, Besigye took part in the guerrilla war that brought Yoweri Museveni and his NRA/ NRM government to power. He was one of a couple of doctors the rebels had with them. He was rarely at the battlefront, but getting deployed in divisions, which were sent into battle so that he could treat the casualties.

He was also President Museveni's personal physician in the bush. When the NRA came to power, Besigye, aged just 29, was appointed State minister of internal affairs and later state minister for defence. Besigye was also the government's national political commissar at the same time, and a decade later had reached the rank of colonel. From the early 1990s, however, Dr Besigye began to fall from grace.

His supporters believe his light had begun to shine too bright, while others say he had become disobedient and unruly. In 1999, Besigye came into the limelight in changed colours, when in a lengthy document, he accused the Movement of being undemocratic, dishonest and corrupt. His comments caused uproar and he was threatened with court martial. The situation dragged on until he was finally allowed to retire from the army a year later. Then he announced himself a candidate for the 2011 presidential elections which were around the corner, together with his allies forming a political pressure group called Reform Agenda to canvass for votes

Opposition party (FDC)
After the 2001 elections Reform Agenda was merged with a number of smaller pressure groups that had emerged opposing the government, to form the political party Forum for Democratic Change (FDC) Headquartered at Najjanankumbi and with the biggest number of opposition MPs in parliament FDC has ever since its creation in 2001, been the main opposition party in the country and if it stays in existence into the long future it will be one of Besigye's chief legacies in the country. The party has already provided two leaders of opposition in parliament ever since the country moved to a multi-party system of government. These are Prof. Ogenga Latigo (2006-2011) and Nandala Mafabi (the current one, 2011-2016).

Besigye has stated that he will be stepping down as party president this year, two years before his second term (and what should be his last, according to the FDC constitution) expires in 2014. Some analysts say his stepping down will mean the end of the road for his party as it has always been built around him. Others say it will provide a good precedent for the country's political landscape as he will be the first leader of a major political party in Uganda to accept to hand over power without trying to tamper with the constitution for an extension of their leadership.