By Brian Mayanja 

Retailers and hair salon owners operating near Wandegeya market have been ordered to vacate, to pave way for the development of the roads.

They should have vacated in November last year to enable Kampala Capital City Authority (KCCA) to plan for the commencement of the works and their operations are illegal, KCCA spokesperson, Peter Kaujju said.

"Our aim is to reduce traffic jam. Currently the roads are very narrow, accommodating few vehicles. In a few months this area is going to be very busy," the executive director KCCA Jennifer Musisi said while touring Wandegeya market.

This move shall affect several business people who have been operating in the area for long time.

The construction of the new market will take less than two years to cost sh22b, Musisi said. Wandegeya market  which is currently constructed by Complant  Engineering Company, a Chinese firm will be equipped with facilities such as fire detection systems, cold rooms, banks, clinics, basement parking lots, community halls, daycare centres ,advertising boards,1800 stalls,  bars and restaurants , parking yards.

Wandegeya market is one of the seven markets countrywide to be rebuilt under the Markets and Agricultural Trade Improvement Programme (MATIP-1), supported by the Government and the African Development Bank. The other Markets are in Lira, Gulu, Mbale, Jinja, Hoima, and Kabarole districts.

The programme is intended to benefit over 15,000 people who will operate in the markets, most which were constructed in the 1950s and are in poor shape.

Musisi explained that over 500 vendors who were operating in the old market will be given first priority.

The Government last year awarded five contracts to local construction firms to build the Markets at a cost of sh123b. They include Amugoli General Enterprises Ltd, Dott Services Ltd, Ambitious Construction Ltd, Vambeco Enterprises Ltd and Excel Construction Ltd.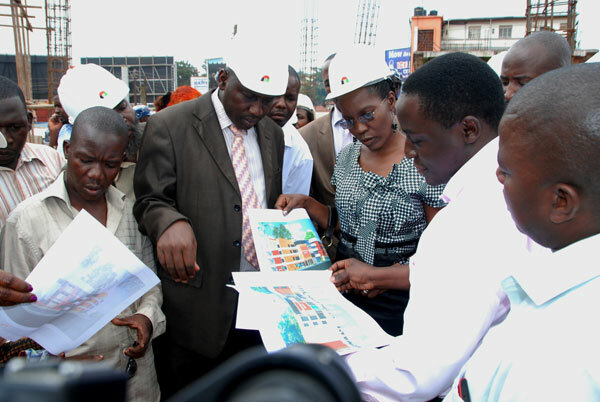 Kamapala Executive Director Jeanifer Musisi, and the deputy Mayor Kawempe Mirembe Kamihanda look at the structural plan of the Wandegeya market that is under construction Wadegeya market on March 15, 2012. By Mark Owor