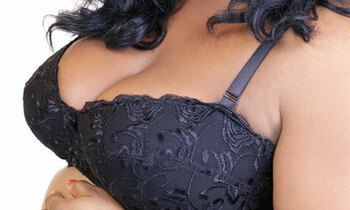 Bra fitting the correct way
Marietta Enoch, a bra consultant with HapyGal Lingerie, has made it her purpose to ensure that women get the right bra size. She endeavours to train women to follow these steps when doing a bra fitting. l Identify the bra you want.

Dangle it in front of you and bend at the waist. Swoop and scoop breasts — plus underarm tissue — into the cups. Stand upright again.

l Fasten it on the outermost hook — since the bra will stretch over time, you do not want it to be tight. l Check that the band is level around the body. If not, switch band size.

(Hint: Most women need a smaller band.) l Adjust the straps so your breasts sit halfway between your shoulder and elbow.

As we celebrate International Women's Day, take time to establish a closer relationship and intimacy with two of your closest sisters — your breasts. Find out their real size and dress them in beautiful, sexy and comfortable bras.

It is estimated that over 90% of women wear the wrong bra size. This most essential of undergarments is also the most misunderstood.

For some women, it is just a way of taming their stubborn breasts so style and comfort does not really matter. But your bra determines your posture, how good you look in clothes and the comfort of your chest and back. An illfitting bra can lead to back
pain says Marietta Enoch, a bra consultant with HapyGal Lingerie.

That is why some women seem to have four sets of breasts indicating that the bra is far too small. Loose bras, on the other hand, can have a halter-neck effect, leaving the wearer weighed down by the breasts.

Obviously, the posture is affected because she can end up with a bent posture like that of a very old woman. "When the bra is too tight, it blocks blood circulation and is uncomfortable. If it is too loose, you can get backache and the wrong posture whether you are sitting or standing," Enoch says.

Sheila Amooti agrees. "Before I was properly measured for a bra, I thought I was a 38D and that is the size I always wore. Sometimes it would fit properly, but some designs ended either too loose or too tight. This was quite puzzling." Enoch says a woman cannot have one bra size owing to fluctuating hormonal action.
 
She recommends regular measuring of the bust not only because of hormones but also because of changes in body weight. It is possible to lose weight on the back without losing on the bust. This means that whereas your cup size might remain the same, the band might change for example from 38 to 36. A good bra is one that fits comfortably and is sexy and yet appealing.
 
Because a bra is a fashion garment, it is important to find one that flaunts your boobs rather than flatten them, especially if they are tiny. Get a bra with a band that hugs your body without being tight so that there is cleavage and the breasts are correctly positioned in the front and centre.

A loose bra defeats the very purpose of wearing one, especially for sagging breasts, because they just dangle in the cups very much like a less endowed man in oversized underpants. Drooping breasts are better kept to yourself and elderly women who no longer care about their appearance.

The right bra will, however, make your breasts perkier, more youthful and appealing. Plus, they give your torso a trimmer look and even enhance your waistline.

For those with larger busts, avoid underwired bras that are too tight as the wires can dig into your breasts and sides bruising them and causing you discomfort.

Also, bands that dig into your shoulders can lead to shoulder pain. Instead, go for a bra that controls your cleavage, distributes weight evenly while being fashionably elegant and stylish.