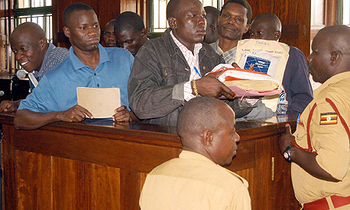 By Andante Okanya
ONE of the  13 people accused  of  plotting to overthrow the government of President Yoweri Museveni  yesterday 'disowned' his confession statement, claiming  torture, intimidation, and threats to his life.
John Otim was giving his testimony at the High Court in Kampala when court opted for a trial  within a trial after the defence lawyers objected  to the testimony of prosecution witness number 16 Joel Loum.
The defence lawyers argued that Otim could not own the Charge and Caution statement, claiming it was pre-recorded at Gulu Military barracks in 2009 between June 2, and 8.They stated that it was later taken to Gulu Police station, from where  Otim was forced to sign it on June 9.
The other accused are Alex Okot Langwen,the son of former chief of the Uganda National Liberation Army Lt Gen Bazilio Olara-Okello, journalist Patrick Otim, Patrick Komakech(peasant), and Patrick Otim(student).
Also accused are Patrick Okello, Jimmy Oceng Opoka alias Billy, Alfred Lubel Olanya, and Francis Akena. Others are  Lt.Phillip Okello, Michael Obol, Sgt.Deovelente Komakech Menya, and Frank Abonga.
Prosecution led by Senior Principal  State Attorney Joan Kagezi,  and  state attorney Sam Oola,  alleges  that they committed the offence between 2006 and May 2009 in eight districts of Kampala, Masindi, Gulu, Pader, Kitgum, Nebbi, Apac and Amuru.
The accused allegedly formed a rebel group, Popular Patriotic Front (PPF) and recruited people to fight and overthrow President Museveni's government.
Additionally, they purportedly mobilised logistical support for the rebellion, by obtaining satellite phones, Global Positioning System (GPS) machines, solar panels, black polythene sheets, gum boots, laptops walkie talkies and fire-arms.
Justice David Wangutusi is the trial judge.The other defence lawyers are Ladislaus Rwakafuuzi, Yunus Kasirivu, Musa Ssembajja,Rashid  Babu, and Saudha Nsereko.
Otim, 35, claimed that he was arrested on June 2, 2009, when on his way to school at Comboni Vocational School in Gulu. He asserted that plain-clothed armed men bundled him onto a double cabin truck, blindfolded him, and sped off. He said he later realised that he was at the military barracks.
Otim identified his purported tormenters only as Capt. Okello, and Lt Adupango, saying he was threatened with death and told to reveal the location of the guns hidden in Oyuku hills in Latanya village.
"Captain Okello  removed his pistol, forced it inside my mouth and one of  my  canine  teeth broke.He told me that he would  kill me like  he did to  Opon Acak, and that no one would  claim for me" Otim asserted.
He dismissed as untrue allegations that on June 7, 2009, he led investigators to the scene where the guns were hidden.Otim said an army man, whom he identified only as Omony, located the area using an arms detecting device. He said he was later ordered to hold two guns, and then photographed.
Accordingly, the judge is expected to give his ruling today in light of the allegations raised by Otim.