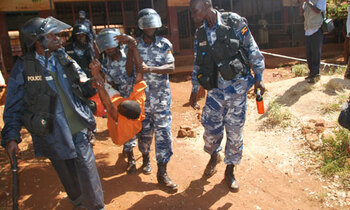 By Donald Kiirya
Twenty-five people were arrested in Jinja over inciting violence on the election day of the just-concluded Jinja Municipality East by-election.
The South-eastern region Police spokesperson, Samson Lubega, said 12 culprits were arrested in the 3am fracas. Two cars, a LAVIT van registration number UAN 195T and another one belonging to Mwiru's camp were also confiscated.
He said police shot gunfire in the air to dispersed supporters of National Resistance Movement (NRM) and Forum for Democratic Change (FDC) who had clashed in Walukuba during the February 9 chaos.
Lubega explained that the other 13 culprits were arrested in the afternoon and evening hours of the election day, before the final results of the poll were announced.
All windscreens of the vehicles were smashed and by the time police arrived at the scene, huge stones were found in the van and the other vehicle had been driven away.
He further said that of the 12 suspects, eight were taken to court on Friday to face charges of malicious damage and assault while the four were released on Police bond after realizing that there was no evidence to pin them.
The police spokesperson explained that all the 13 culprits who were arrested on February 10 were bonded out by leaders and relatives since police had no clear evidence to pin them.
"The culprits were arrested on grounds of inciting violence and malicious damage," said Lubega during a phone interview.
He said that one vehicle, a RAV4 registration number UAR 871A was attacked by FDC supporters at about 8pm onThursday. Its behind windscreen was smashed during the clashes at Tobacco road but culprits were not yet arrested. 
"Police had to fire tear gas to disperse the FDC supporters and drove the vehicle to the Police Station. We saved lives of policemen and a Presiding officer of IDA Polling Station called Ronald Batuuse," Lubega added.
Lubega said Batuuse was transporting ballot papers to the tally centre for counting with policemen guarding him in a black RAV4 vehicle but FDC supporters suspected that he was taking ballot papers which were not genuine. 
"Batuuse called Electoral Commission officers to bring a vehicle but they delayed to come since the law allows them to get any means of transport. He got the RAV 4 vehicle and two policemen to guard him in order to take the ballot papers to the tally centre," explained Lubega.
NRM's Nathan Igeme Nabeta, who lost to FDC's Paul Mwiru in the race, told New Vision on phone that his supporters were badly beaten on Thursday by Mwiru's supporters.
He said most of them were rushed to various clinics for treatment and where discharged after receiving treatment.
He recalled when Mwiru's supporters tried to break into the home of the chairman of his task force, Charles Busulwa.
He denied rumours that his voters dished out money, saying that those were not his people.
Igeme conceded defeat by accepting the outcome of the by-elections results.
About forty people were injured in the violence including Michael Orwot, Isma Mukholi, Ssegawa, Fred Sooka, Robert Muwenda, Andrew Lochap, Douglas Kachope and Sulaiman Kasadha.
FDC's Paul Mwiru won with 7,758 votes, NRM's Nathan Igeme Nabeta came second with 6,058 votes while DP's Alex Waiswa Mufumbiro hit 126 votes. Independent Cranmer Dhikusoka got 28 votes and UPC's Ritchie Osinde Oyo tailed with 16.