By Hillary Nsambu

CHIEF Justice Benjamin Odoki has asked the newly sworn in Judicial Service Commission (JSC) to immediately look into the salaries, allowances and retirement benefits for judicial officers.

"It is important to have a fully functioning judiciary with stable incomes for the judicial officers, so that they can effectively and efficiently administer justice to the people of Uganda. A fully fledged and effective judiciary guarantees peace and development," Odoki said Thursday.

He also urged the JSC to fill the vacant posts in the Judiciary as soon as possible, saying that the shortage at different levels has adversely affected their delivery of service to the people.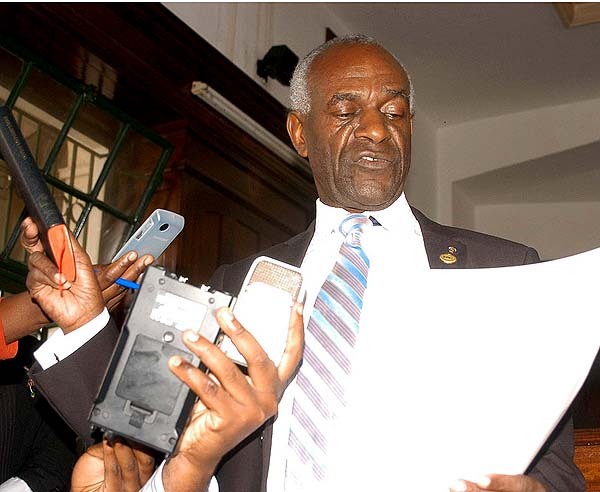 JSC boss James Ogoola taking oath. Photo by Ayiga Ondoga.
"We have shortages at various levels of appointments in the Judiciary due to retirement and need for replacements for those appointed to higher judicial offices. The Supreme Court has 5 vacant positions for justices while the Court of Appeal 8 and the High Court 5 which should have 82 judges. There is one vacant post of the chief registrar and a registrar. Thirteen deputy registrars, 2 chief magistrates 4 senior principal magistrates Grace One, 5 principal magistrates Grade One," he explained.

The chief law lord was swearing in seven members of the Judicial Service Commission (JSC) at a ceremony held at the High Court in Kampala and; attended by many dignitaries including the Minister of Justice and Constitutional Affairs Kahinda Otafiire, the Principal Judge, Yorokamu Bamwine, Supreme Court justices and several chairpersons of different commissions.
  The Commission is headed by retired Principal Judge James Munange Ogoola deputized by Supreme Court Justice Esther Kisaakye. The Attorney General, who is an ex-officio of the Commission, also attended the function.

The other members, who also took oath, included another Supreme Court Justice Bart Katureebe, Grace Oburu (former MP for Tororo), Laban Kirya, Charles Okoth Owor and Prof Frederick Ssempebwa both Kampala senior advocates.

However, one member whose name was not mentioned is yet to be sworn in at a date to be announced later, "because paper work concerning that person had not been finalized", according to the JSC chairman.

The Commission was sworn in 14 months since the last one vacated office in November 2010.