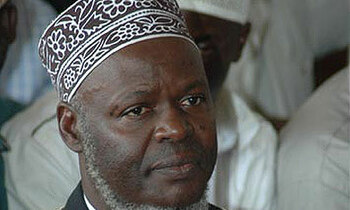 By Frederick Kiwanuka          
THE long-standing row between Muslims loyal to Mufti Shaban Mubajje and those belonging to rival Mufti Zubair Kayongo's sect, took a new twist in Luweero  over the weekend, when the pro-Mubajje group barred their rivals from using the district mosque.
Kayongo's group wanted to hold a four-day conference at the mosque but had to change the venue after police cordoned off the area to prevent bloodshed.
The whole saga started last week when the pro-Kayongo Luweero Muslim district chairman, Ibrahim Mugalu Kyobe sent letters to Muslim leaders at various levels in the district, inviting them for a four-day conference.
According to the invitation letters, the conference was to start on Friday at the Muslim district mosque at Kasana within Luweero town council, and was to be opened by Sheikh Kassim Nakibinge.
Kyobe's move was however protested by Mubajje's Old Kampala-based Uganda Muslim Supreme Council (UMSC), who sent letters to the Luweero Resident District Commissioner (RDC) and the police, asking them to block the conference.
In the letters dated January 16, Wahab Rugasa of the UMSC Secretary General's office at Old Kampala informed the district authorities that Kyoibe's proposed conference had ill intentions and was illegal.
Asking the RDC and the police in Luweero to block the conference, Rugasa said the Old Kampala UMSC establishment did not recognize Kyobe as Luweero district Kadhi.
"Luweero has no substantive district or UMSC chairman as far as we are concerned. The letters that invite participants are therefore null and void because they were signed by a self-styled chairman," stated the letter from Old Kampala.
 Luweero District police commander, Samuel Bamuzibire said on Saturday that the district Security Council had advised the pro-Mubajje Muslims to hold their conference at another venue.
By Saturday, the disputed mosque remained cordoned off by armed policemen who turned away pro-Kayongo Muslims who had turned up for the conference.
One of the organizers Musa Kakande said they had decided to hold the conference at another venue, rather than forfeiting it all together.