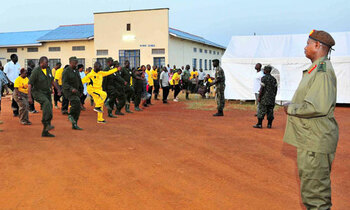 By Catherine Bekunda and Henry Sekanjako
National Resistance Movement (NRM) MPs meeting at Kyankwanzi have demanded that the Government introduces a 'shoot-to-kill' policy for people engaged in economic sabotage.
The MPs argued that the policy would work well if Uganda was to transform from an agricultural economy into an industrialised one.
Over 100 MPs are attending a 10-day retreat at the National Leadership Institute in Kyankwanzi. 
MPs were reacting to a paper presented by David Mafabi on imperialism, neo-colonialism and globalisation and their impact on the Ugandan economy.
According to a press statement issued on Monday, President Yoweri Museveni asked the MPs whether they would support such a bill if it was presented before Parliament and all MPs chorused "Yes" in response.
The statement added that the President said: "Unfortunately, Uganda is not like some other countries that have developed a 'shoot-to-kill' policy for people who are engaged in economic sabotage."
Last year, President Museveni attracted criticism when he suggested that people who engage in economic sabotage, murder, riots and defilement be denied bail.
Human rights activists also rejected the proposal, saying bail is a human right.
President Museveni also pointed out some of the contradictions involved in transforming from an agricultural to an industralised economy.
He cited the case of Dr. Florence Muranga's banana project that was almost sabotaged because legislators sought the feasibility study from her, instead of helping her with economic research.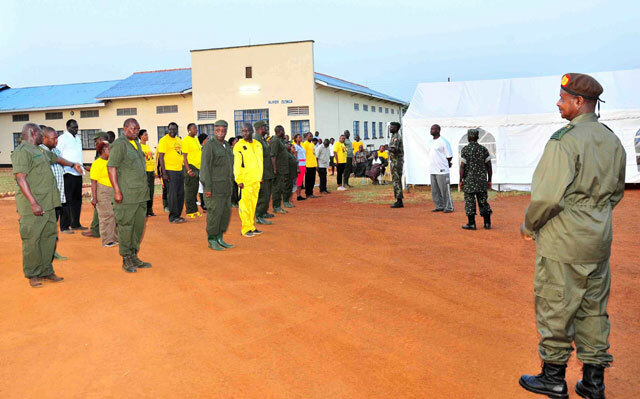 NRM MPs and Ministers standing at attention in a parade before their party chairman, President Museveni (foreground). PPU PHOTO 
The President defended Dr.  Muranga's initiative, saying he had stopped her from selling the patent rights to a foreign company in order for Uganda to directly benefit from her work.
He said he would seek the allegiance of Parliament in securing funds for supporting scientists engaged in research and development for a five-year project to assist the Makerere University's Faculty of Science and Technology in completing more research innovations. 
Prime Minister Amama Mbabazi also gave a lecture on the history of the NRM and its rise to power.
According to sources that preferred anonymity, Mbabazi  said the NRM cannot be compared to parties like the Uganda People's Congress.
"NRM is a party for all. It is very tolerant and it advocates for the economic, social and political transformation for all Ugandans," the source quoted Mbabazi.
He said NRM had encouraged the development and prosperity of all Ugandans through good governance and peace. 
Mbabazi added that unlike other parties that have regional biases, the NRM was enjoying support from across Uganda as evidenced in last year's general elections. 
The MPs were also taken through lectures on neo-colonialism, imperialism and contemporary globalisation.
The legislators proposed that Uganda needs to re-think its place in the global context by building awareness on issues that call for commitment within the development policy framework. 
The MPs also called for investment in non-traditional sectors of the economy, going beyond comparative advantage to building competitive advantage that works for fundamental socio-economic transformation.
Members of the NRM parliamentary caucus are attending a 10-day retreat at the National Leadership Institute at Kyankwanzi.