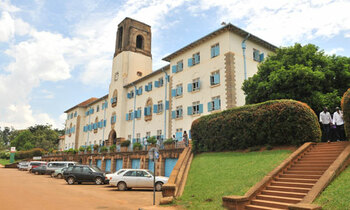 By Francis Kagolo
Makerere University has started reviewing remuneration for its staff with a view of increasing the monthly pay to at least sh8m from sh3m for a professor starting next academic year.
Speaking at the opening of the week-long university's 62nd graduation ceremony on Monday, the vice-chancellor, Prof. Venansius Baryamureeba, announced that a task force comprising  senior academics and financial experts had been set up to review all staff salaries. 
Baryamureeba said the move was aimed at motivating staff, averting strikes over low pay and improving academic standards.
The 90-year-old university has been closed several times following strikes by the academic staff strike over poor remuneration.
In September last year, the university was closed for over a month after the lecturers laid down their tools, demanding for a more than 300% pay rise among other grievances.
The task force which was constituted on November 18, 2011 by the University Council, the institution's topmost decision-making organ, is headed by Prof. Francis Omaswa, the chancellor of Busitema University.
Other members include Prof. Foster Byarugaba, the vice-chairperson of Kampala International University, Prof. Ben Kiregyeya and Dr. Patrick Mangeni, from the Research and Education Network.
Yesterday, Baryamureeba expressed optimism that improving remuneration would also curb brain drain among the academics.
Currently Makerere University has 74 professors and 150 associate professors.
However, Baryamureeba said the number may reduce unless the salary review process is expedited.
The level of brain-drain in public universities is alarming. Makerere University lost 25 high-profile lecturers in the past year alone, forcing management to close the Master of Journalism and Communication programme among other courses.
Mbarara University also lost 20 lecturers while Gulu Univeristy reportedly loses about 10 senior lecturers every academic year, according to the univeristys' management.
Reciting former US President John F. Kennedy's words, Baryamureeba stated: "Our progress as a nation can be no swifter than our progress in education. The human mind is our fundamental resource."
"We do not want to continue losing our staff due to low salaries. It is important that the Government provides better pay to staff in universities just like it has done for other statutory agencies."
Baryamureeba also reported that the university had set up a hi-tech laboratory to train students in oil exploration and production technology.
The laboratory, which was funded by a grant from Schlumberger, a multinational company offering oilfield services, is worth $3.5m (about sh8.5b).
He disclosed that the university would start a master's degree in petroleum geo-sciences.
Baryamureeba also commended scientists at the university for designing an electric car, the Kiira EV and inventing artificial insemination for pigs.
A total of 11,022 students are to graduate this week, 5,873 (53.3%) of whom are male and 46.7% female. A total of 221 students got first class degrees, down from last year's 236.
The university is to award 42 doctorates of philosophy (PhDs), the highest number in its 90-year history.
Tonny Ongin emerged this year's best student with a bachelor's degree in mechanical engineering. Ongin scored a Cumulative Grade Point Average of 4.86.
He received the Chancellor's Award which comprised sh1m and other gifts.
Upon hearing that Ongim attended Teso College Aloet, university chancellor Prof. Mondo Kagonyera, described him as a genius and asked the Government to support children in rural schools.
"Our best student did not come from Budo, Namagunga, Gayaza or St. Mary's college Kisubi, which are the first world secondary schools. He studied in schools in the village," said Kagonyera.
"Let us take higher education upcountry; there are more geniuses in those schools that are being left out," he added.
Kagonyera advised the graduands to work hard and respect their employers, saying it was not the class of degree one gets but his character that determines their future.