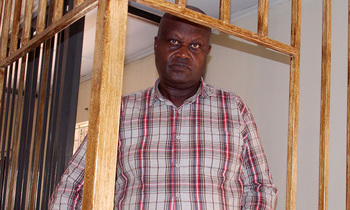 CRIME |

A senior retired army officer of the regular forces of the Uganda People's Defence Forces (UPDF) has been charged and remanded over unlawful possession of military stores.

65-year old Maj. Stephen Rwakanuma (Rtd), formerly attached to Operation Wealth Creation is battling with three counts of unlawful possession of a firearm, ammunition, and offences in relation to the uniform.

He was arraigned before the General Court Martial (GCM) chaired by Lt. Gen Andrew Gutti at Makindye in Kampala to plea to the alleged charges.

However, Rwakanuma, a resident of Rwebicuncu, Nyabugando-Nshenyi in Insigiro district denied offences.

The charges respectively contravene section 3 (1) and 2 (a) of the Firearms Act Cap 299 and 169 (1), (2), (4) of the Penal Code Act Cap 120 and respectively attract a maximum sentence of ten and seven years' imprisonment upon conviction.
Upon denying the charges, the state prosecutors Maj. Rapheal Mugisha and Capt. Ambrose Baguma informed the court that investigations were still ongoing, therefore requesting an adjournment.

"My Lord Chairman and honorable court members, investigations regarding this case are still ongoing. We, therefore, request for an adjournment to enable complete the same," Baguma said.

The accused lawyer, Maj. Silas Kamanda Mutungi did not object to the prosecution submission, prompting court to adjourn the case to June 23, 2020.

"Having pleaded not guilty to the charges and the fact that the defence has not objected to the request of adjournment, the accused is hereby remanded to Luzira government prison until June 23," Gutti ruled as he adjourned the case.

The charge

The prosecution alleges that on or around May 22, 2020 while at Rwebicuncu, Nyabugando-Nshenyi in Insigiro district, Rwakanuma was found in unlawful possession of a firearm to wit; SAR number 9857, the said firearm being ordinarily a monopoly of the Defence Forces.

It is purported that during the same place and time, the accused unlawfully possessed 30 rounds of ammunition.

Prosecution further asserts that the accused was found unlawfully wearing UPDF military uniform of desert camouflage type, therefore subject to military law by virtue of section 119 (1) h (i) and (ii) of the UPDF Act, 2005.