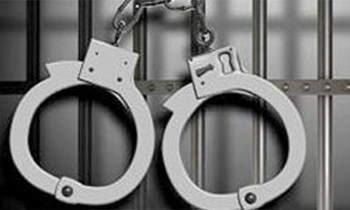 Police Monday swung into action and arrested one of the suspected criminals, who raided the Banana Phone World Shop, located on City house building along Dastur Street.

The criminals allegedly stormed the phone shop disguising as buyers. On realizing that they were criminals, one of the shop attendants screamed loudly, "Thieves….thieves," which attracted the attention of security.

Before Police arrived at the scene, the suspect identified as Bruhan Arinaitwe, a resident of Madirisa Zone, a Kampala city suburb, in Makindye Division, had already been arrested by a private security guard.

"Thanks to the security guard for being alert, vigilant. We have the thug in our custody and he will definitely face the law," said Ivan Nduhura, the CPS Operation Commander.

An eyewitness told New Vision that since the government started lessening the lockdown, several criminal gangs have come back on Kampala streets.

"As we were seated on the veranda, on Monday, we saw a group of youths moving in a group, coming from Nakasero side and when they reached the techno shop, they entered disguising as buyers but few minutes later, we heard one of the shop keepers screaming and shouting ..."Thieves….thieves," said the witness on condition of anonymity.

According to Kampala Metropolitan deputy Police spokesperson Luke Owoyesigyire, the suspect is currently being detained at Kampala Central Police Station, pending investigations.