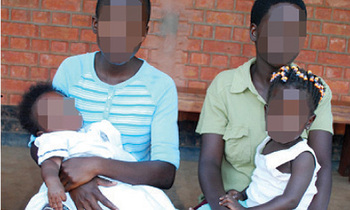 By Agnes Kyotalengerire
Full of envy, Sharon Namugaya, 14, watches her colleagues play. Under normal circumstances, Namugaya should be playing with these friends of hers, but she cannot because she has to breastfeed and take care of her three-month-old baby. 
Namugaya was in Senior One at Agape SS in Namutumba when she got into a love relationship with James Balikowa, a fellow student in Senior Three. 
"He promised that if I accepted him, he would pay my school fees and marry me after completing school. But after I got pregnant, he run away and I have never seen him since," Namugaya says.
Naigaga Birungi's story is not any different. Already a mother to a one-year-old baby, Naigaga says her education journey was cut short in 2010 after she had written her first paper of Primary Leaving Examinations at Bugiri Primary School. 
"I had gone for my second paper when the supervisor ordered me to go back home because of my situation," Naigaga recalls. She says her problems started when 19-year-old Maganda, who was studying in a neighbouring secondary school lured her into sex and she got pregnant. 
Today Naigaga is a single mother, who earns a living by weeding maize and rice gardens. "For every garden I weed, I earn between sh1,000 and sh2,000. I use the money to buy food, sugar and soap for my baby," she explains. 
For Ruth Katoko, also a teenage mother, the situation is tougher. 
Katoko, 17, sits helplessly in a ward at Magada Health Centre III with her one-and-half-year-old son wriggling restlessly in her arms. 
The baby, James Gange, has a high temperature and looks severely malnourished. When the nurse tells Katoko to breastfeed the baby, she shakes her head in disapproval before she explains that she is seven months pregnant and her culture does not allow an expectant mother to breastfeed. 
However, in the conversation, Katoko reveals that before becoming a mother, she was in Primary Six at Bugola Primary School, but dropped out because her parents could not afford to pay her school fees. Six months later, when Katoko was visiting her elder sister in Kirika, she got into a relationship with 19-year-old Kefa Wasalaine and the two started living together. 
Katoko and Wasalaine confess that life is unbearable. "We do not have money and cannot afford milk and other basic needs for the baby. We have to sell part of the food we grow to get money to buy sugar and soap." 
Teenage pregnancy prevalence 
These cases are just a drop in the ocean. Cases of young girls dropping out of school in Namutumba district due to teenage pregnancy are rampant. 
Dr. James Kiirya, the district health officer, observes that the rate of teenage pregnancy in Namutumba is alarming with the highest cases registered in Magada, Nsinze and Ivukula sub-counties. 
Dr. Kiirya estimated that about 40% of girls between 15 and 19 years of age in Namutumba district are already mothers. "This is way too high compared to national figure of 25% according the health ministry," he says.
Records show that the highest number (20) of teenage mothers was registered at Nsinze Health Centre IV. 
According to the 2009 and 2010 Namutumba local government information report, of the 401 pupils who dropped out of school in 2009, 220 were girls. In 2010, out of 384 pupils who dropped out, 201 were girls. In the same report, among the UPE schools more than half of the  girls registered in 2009 and 2010 did not complete Primary Seven. 
Godfrey Bweita, the district education officer, says from the investigations carried out, it was discovered that all the cases of drop-out among girls were linked to pregnancy and early marriages. 
Damali Juliet Batana, the acting inspector of schools, observes that secondary schools have also been affected. She cites an example of Kibaale High School in Kibaale sub-county, where 16 girls sat for the 2010 Uganda Certificate of Education examinations pregnant. 
Poverty to blame 
Grace Ssendabaguzi, the resident district commissioner, attributes the high rate of teenage pregnancy to abject poverty. 
"People are poor and cannot afford to meet the personal need of their children. As a result, the girls are lured into sex in exchange for gifts and money," Ssendabaguzi says.
He explains that once the girls get pregnant they drop out of school at 13 and 14 years of age, giving birth to children they cannot afford to look after. 
Anania Mwoko, the deputy headteacher of Nabikabala Primary School, says many children study on empty stomachs because their parents cannot afford to pack lunch for them or pay for it at school. The girls are then lured into sex by traders and boda boda cyclists in the trading, who buy them chapattis and sodas for lunch. 
Emmanuel Muwanika, the head teacher of Buwidi Primary School, adds that poverty is the biggest cause of teenage pregnancies and early marriages. 
"Here girls are regarded as a source of wealth, locally referred to as emaali. When a man defiles or makes a school girl pregnant, parents do not report him to the Police. They instead opt to quietly meet the man and negotiate for payment usually between sh200,000 and sh400,000," he says. 
A story is told of how 17-year-old Peninah Naikyala's parents celebrated when Lazaro Kasanja, a businessman, who made their daughter pregnant accepted to pay them sh800,000. Naikyala was reportedly in Senior Four this year when she became pregnant. Immediately after her exams, her parents sent for Kasanja and asked him to pay them and marry her. 
Mwanika confirms that cases of early marriage are common during holidays. 
"We only get to know when school starts and the girls do not report back only to be told their parents married them off," he says, citing an incident of a 13-year-old girl in Primary Four, who became pregnant and disappeared from his school. When he tried to follow up, he was told the parents from both sides had settled the matter. 
No value for girl-child education 
Fred Kalisengawa, the senior education officer, blames the high rate of teenage pregnancy on the tendency of parents not to value girl's education. 
"In Namutumba, pregnancy marks the end of a girl's education path. Parents do not consider taking their daughters back to school after they have given birth," he explains. 
"Some prefer keeping girls at home to provide labour in gardens. They also send them to sell produce in the markets and on their way back late in the evening, the girls are intercepted by men and defiled," notes Umar Kwajja, the community development officer of Magada sub-county.
So who is responsible for the teenage pregnancies? 
Bweita says they have not registered cases of cross-generation sex. 
"Girls get into sexual relationships with schoolmates. The other category of young men who are older than the girls by about five years. These include boda boda cyclists and shop attendants whom the young girls think are well-off," he says.
The connivance game 
David Kawooya, the deputy chief administrative officer, says people in Namutumba regard teenage pregnancy as normal. "Though we have laws on age of consent, the parents let down because they connive with men, who defile and make their daughters pregnant, just to get little money out of them," Kawooya explains. 
Charles Ivaibi, an official of Maganda sub-county, laments that in a place where there is no registration of births and no birth certificates are issued, their efforts to intervene come to naught when parents inflate the girls' ages. 
Kawoya notes that there is need to sensitise the parents about the dangers of teenage pregnancy and encourage them to keep their children in school.
Interventions to avert the trend 
As part of the fact-finding mission, Kawooya notes that USAID/Food and Nutrition Technical Assistance II Project recently organised a meeting between district leaders and MPs to discuss the plight of children in Namutumba district. Kawooya says teenage pregnancy was highlighted as a major challenge affecting the girl-child in the district. 
Batana also notes that after 16 girls in Kibaale High School were reported to have sat Senior Four exams while pregnant, the education officials ordered the closure of the hostel where men used to walk in freely and pick the girls. 
In addition, who are trying to counsel the girls.