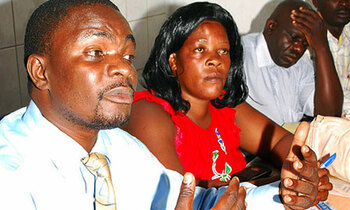 By Eddie Ssejjoba                         
Over 1200 voters in Bunyoro region have appended their signatures on a paper petitioning President Yoweri Museveni to save minister for the presidency, Kabakumba Matsiko from being dropped from cabinet.
The chief petitioner, Olivia Mugisa and the speaker of Masindi district council, Ronald Kyomuhendo Monday evening addressed journalists in Kampala, saying "we have appealed to the President to give our 'daughter' another  chance."
The group advised the President not to listen to politicians who are against Kabakumba and instead await the police report investigating her role in the Uganda Broadcasting Corporation (UBC) radio equipment saga.
The minister has in the past week been in the limelight for allegedly stealing a UBC mast for use by her radio station King's Broadcasting Service (KBS) in Masindi.
Innocent
However, Kabakumba has since then disassociated herself from what she calls 'propaganda' of stealing UBC property. During a meeting in Parliament last week, she argued that "stealing a mast would involve dismantling, transportation and installation", all of which could not be executed "unnoticed".
She said KBS was instead authorized by UBC to access its mast at Kigulya Hill and install KBS equipment there, way before she became a minister for information and national guidance.
The minister further explained to the House that the Police picked equipment, including a transmitter, generator and satellite transmission link, from a UBC house on Kigulya Hill, and not KBS studio.
Only Propaganda
The petitioners argued that their accused 'daughter' was a victim of political opposition aimed at tarnishing her reputation.
"We want to tell the entire public that Hon Kabakumba Masiko is clean. It is just a group of politicians who want to stain her name and bring her down," Kyomuhendo explained, adding that her supporters who met in Masindi on Sunday vowed to fight for her till the end.
He said the President and the NRM party "should not be deceived by some politicians who were the same group that have been fighting the Prime Minister, Amama Mbabazi and other ministers.
"Museveni should be very careful with some NRM politicians who are bent on bringing down their colleagues in the party. Whether Kabakumba remains a minister or not, she will be cleared by the police because she never committed any offence," the district council speaker cautioned. 
He was firm that the accused Kabakumba made "no single mistake".
Kyomuhendo and other supporters whom he referred to as elders from Bunyoro-Kitara showed reporters a booklet containing the over 1200 signatures in support of the petition to the President.
They said they would deliver the petition to the office of the President or his principal private secretary on Tuesday.
"Bunyoro has been supporting the NRM government and President Museveni appointed Kabakumba because she is a good mobiliser in Bunyoro and we are ready to stand with her."
The chief petitioner Olivia Mugisa said that they had invited people accused in the saga and after being convinced that Kabakumba was innocent, they resolved to fight for her and started by petitioning the President.
"We have so far collected 1200 in just one day but a lot more signatures are coming because all people believe that our daughter is being fought from within the party," she said.