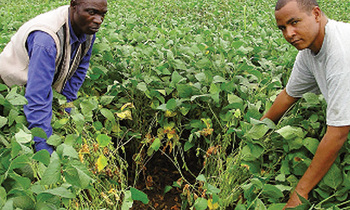 Uganda agriculture has a bright future
Despite abundant natural resources and a favourable climate, the recognition of the principle of agriculture-led growth as a main strategy of the sector's performance has not been impressive in the last few years
Uganda has a broadly recognised comparative advantage for food production and has the potential to become a major net exporter in the region and beyond, thereby contributing to food security in a region regularly affected by drought and food crises. 
Agricultural growth is considered to be a key factor in the country's efforts to reduce poverty.  Increased investment in agriculture could more than double its projected growth rate leading to a reduction of 8.6 % of the national poverty rate percentage points by 2015. 
Investing more in agriculture is the surest way to effectively reduce poverty.
Much of the industrial activity in the country is agro-based, with food processing alone accounting for 40% of total manufacturing industry.  
Investing in SMEs will benefit farmers
Investing in Agribusiness SMEs will help the farmers to improve access to inputs and to better value their production in the local and regional market. Equity fund investments in the sub-region have proved that such initiative is increasing the revenue of small sclae farmers supplying agri-businesses, give them access to better quality inputs create employment in rural areas. 
A few medium agri-businesses open markets and create opportunities to smaller producers.
Finance is key to agribusiness development
The problem of access to finance is particularly acute for small and medium enterprises in need of long-term finance for business development.  
A significant gap exists in the offer of long-term finance between microfinance institutions, at the lower end of the spectrum, that concentrate on loans of less than $1,000 (about sh2.6m) and the relatively large-scale commercial banks at the other end that are reluctant to lend to SMEs in the agriculture sector.  In both cases, the high interest rates are often prohibitive for long-term investments.  
Equity funds, by providing long-term equity finance, contribute to addressing this funding gap.  However, the vast majority of the existing funds are focused on large deals and target companies at the bank-friendly end of the spectrum.  Investment demand in Uganda and East Africa currently exceeds supply.
The equity fund initiative will give the right tools for business growth
The European Union and other partners are working with the Government to set up an equity fund for SMEs agribusinesses in Uganda.
A feasibility study in August 2011 has concluded that the "equity fund initiative is relevant to support the mid-size agribusiness in Uganda" and would deliver impact on the sector. 
The objective of this intervention is to contribute to the development of Uganda's agriculture and agribusiness sector and to improve rural livelihoods, incomes and food security. 
Capacity constraints also affect small and medium agribusinesses. There is a high need and demand for business development services to reinforce many of the key aspects of their business, namely; financial management, corporate governance, access and management of information, production management and marketing. 
The equity fund will support the development of SMEs engaged in agribusiness by providing access to long-term finance and business development services.
The first Ugandan equity fund for agri-businesses 
The Equity fund will be incorporated in Uganda and will blend funds from institutional investors, development partners, investment banks and private investors. A business development service facility will provide support on a cost sharing basis to the potential investors for business coaching, business to business support and technical and management expertise transfer.
The $30m to $50m (about sh130,000) fund will target mid-size companies. Non-development partners investors will represent at least 25% of the fund to ensure that the fund is managed in a business-like and financially sustainable manner. Several institutional investors (pension funds, insurance companies, trusts) have expressed their interest to invest.
This equity fund will take minority shares, in between 10 to 35% of total equity for a period of 5 to 8 years.
An institutional fund manager with a good track record in agribusiness investment in Africa will be recruited to run the fund after having successfully "closed" the fund. 
The writer is the European Union Ambassador to Uganda