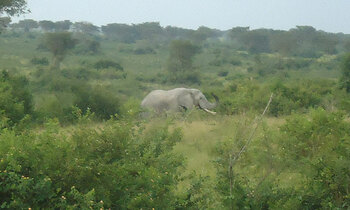 By Gerald Tenywa
A rare sighting of white elephants has been recorded in Ishasha Sector of Queen Elizabeth National Park in Kanungu district. The existing elephants that are known to  Uganda Wildlife Authorities are African elephants which and grey in colour.
 The white elephants were seen on October 1 near Rwampunu peninsula on the shores of Lake Edward.
They were sighted by a group of foreign tourists accompanied by Henry Paul Mbaguta, the assistant commissioner for Microfinance, during a game drive in Ishasha plains and valleys. 
"As we approached the seemingly white rocks, we noticed that they had parts that were flapping. Within a distance of about 100 metres, we saw that they were not rocks, but three adult elephants," said Mbaguta in a statement sent to the Uganda Wildlife Authority (UWA). 
He said the elephants were peaceful as they fed on shrubs. 
"They never took note of our presence. They only occasionally cast an eye over branches to be sure they were safe."
In a separate interview, acting UWA executive director Andrew Seguya said white elephants were only known to exist in Asia. 
He added that UWA was going to work with Mbaguta to verify the white elephants. 
"It will be very interesting for our tourists if this species of elephants exists in Ishasha." 
Ishasha is known to be home to the tree climbing lions that do not exist anywhere else in Uganda.  
** Have you seen white elephants before in AFRICA? Tell us your experience by sending an email to news@newvision.co.ug