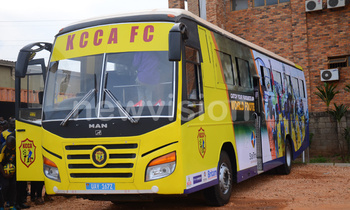 KCCA Executive Director, Jennifer Musisi has promised to continue giving financial support to KCCA FC to ensure that the club becomes one of the top sides on the continent.

Musisi was launching KCCA FC's new bus at Phillip Omondi stadium, Lugogo.

"Am still committed to supporting the club in any way to ensure that it becomes a top side in Africa. Am happy to launch this bus since many fans have been asking me for it. As KCCA FC we need to set higher standards," stated Musisi.

It's estimated that the 48 seater bus supplied by Copper Motors Corporation Uganda Limited cost $157,000 (sh569.6m). This is the second bus given to KCCA FC by the same supplier. However, KCCA FC dragged Cooper Motor Corporation Uganda Limited to court over the first bus.

KCCA claimed that the bus had defective shock absorbers, breaks and passenger seats. Cooper Motors agreed to replace the bus with a new one.

"We want to thank Copper Motors for co-operating with us .It's not easy to get a contractor who can give you another bus. This one is in good condition and we believe it will help the club,"Musisi added.

Musisi also pointed out that the bus will also be used by other sports teams under KCCA such as boxing club, netball team and basketball team (KCCA Leopards) among others.