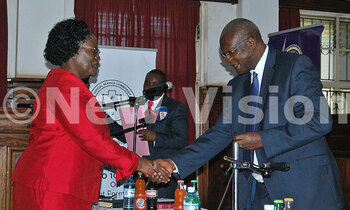 PIC: Chief Justice Bart Katureebe interacts with the new commission deputy Chairperson Faith Mwondha during the swearing-in ceremony on Monday. (Credit: Godiver Asege)

KAMPALA - Chief Justice Bart Katureebe has warned judicial officers against corruption, re-emphasizing that the practice taints the image of the Judiciary.

While swearing in eight members of the Judicial Service Commission (JSC) at the High Court in Kampala, Katureebe stated that there is an upsurge of corruption cases against judicial officers.

He said the continuous rise of corruption within the Judiciary needs to be seriously addressed to protect the image of the institution.

Katureebe asked the newly appointed JSC members to guard against corruption by not taking money to appoint judicial officers.

"Taking bribes is very dangerous. Offending officers should be reported to Parliament and the Executive to ensure an independent Judiciary."

The new commission is headed by Justice Benjamin Kabiito and deputized by Supreme Court Justice Faith Mwondha.
Benjamin Kabiito, here receiving an award from Katureebe, is the new commission chairperson. (Credit: Godiver Asege)

Other members who took also oath included Ruth Sebatindira (former Uganda Law Society president), Norah Matovu Winyi (human rights advocate), Dr Laban Nnini Kirya, Rose Nyakikongoro, Amongin Aporu (Minister of State for Teso Affairs) and Jontham Tumwesigye.

Katureebe warned the new JSC members that they have assumed office at a time when the Judiciary is under scrutiny over corruption and incompetence.

"In undertaking your duties I advise you to extensively scrutinize who we recommend to work in the Judiciary if we are going to fight corruption."
A group photo of the new judicial service commissioners with the Chief Justice and others. (Credit: Godiver Asege)

He also noted that if the Judiciary is to fight against corruption, people who drag judicial officers to court over corruption must be investigated through the rules of natural justice.

"Some people who complain against judicial officers maliciously drag them to the commission because they have lost a case. Therefore they should be given time to defend themselves," Katureebe noted.

He also disclosed that some suspects or complainants want to dictate which judge or magistrate should handle their cases, to which he advised JSC members to take note.

On his part, Justice Kabiito noted that there are currently 300 complaints against judicial officials, with many relating to the Magistrate's courts.

"These cases are ready for disciplinary action and the committee will adjudicate upon it as fast as possible," he added.

Kabiito noted that the JSC case management system needs to be reformed, adding that the committee should sit full time and not twice a month.
Here, Katureebe chats with Natukunda Ariyo, Senior superintendant Uganda Prisons at the function. (Credit: Godiver Asege)

'Dignity and respect'

Meanwhile Justice Katureebe asked the new JSC to look into the salaries, allowances and retirement benefits for judicial officers.

"Retired judges are being tossed by the clerks as they look for their retirement benefit, which is bad. They should be retired with dignity and respect."

New commmission chairman Kabiito commended the Chief Justice and the Principal Judge for undertaking reforms in the Judiciary and improving its image as the custodian of rule of law.

Henry Kyemba, an outgoing member of the commission, thanked President Yoweri Museveni for enabling them to do their job.

Citing the achievement of the commission, he said they have advised the president on various appointments, presided over disciplinary cases and made sure case backlog is dealt with in the Judiciary.

The swearing-in ceremony was attended by dignitaries including Principal Judge Yorokamu Bamwine, Supreme Court justices and chairpersons of different commissions.