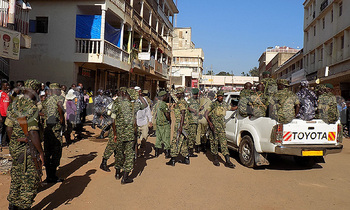 Police patrol Mbale Streets. Photo By Paul Watala
Police and the army have clashed with a group of errant stone throwing youth who had forcefully taken over control of the Mbale main Taxi Park.
The security personnel fired teargas and live bullets to disperse a group of demonstrators which pelleted them with stones that brought transport and business in Mbale town to a standstill.
Several shops were closed, vehicles destroyed and food stuff stolen by the protestors.
The demonstration lasted for about two hours as the youth engaged Police in running battles.
Mbale District Police Commander, Frank Mugabi, said the youth from two different contractors that are interested in managing Mbale Taxi Park engaged each other in a fight which attracted the police intervention.