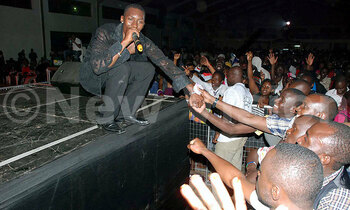 Ugandan R&B musician Michael Ross Kakooza has refuted claims that he is relocating to Rwanda to start a new music career there.

Early this week, a section of Ugandan media reported that Ross of the Show Me Your Dance fame would move to neighbouring Rwanda apparently due to too much pressure from fans in Uganda to release new music frequently.

But when New Vision contacted him about the claims circulating also on social media, Ross' response was: "No, that's not true".

Rwandan media too reported that Ross had signed a management contract with PromoAfrika, a record label based in the Rwandan capital Kigali.

The establishment would apparently manage his music career.

Ross late last year released his Kinyarwanda debut song titled Ndakwikundira - about love - that has since dominated the airwaves both in Uganda and in Rwanda.

The Ugandan musician has previously praised his Rwandan fans for the overwhelming support they show him at his concerts in Rwanda.

His last show there was in early November 2015, where flanked by fellow Ugandan musician Allan Toniks, he thrilled night revelers at The Mirror Hotel.

Recently, Ross was nominated for the French-based Jaiye Awards that seek to recognize the moving industry of afro-Caribbean music, through the launch of the 'Video of the Day' award.