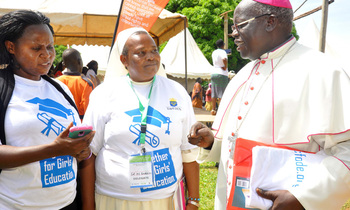 Archbishop John Baptist Odama (R) talks to Sr.Mary Goretti Kisakye (C) and Despina Namwembe during women's convention in Gulu district. Photos by Francis Emorut

The chairman of Uganda Episcopal Conference, Archbishop John Baptist Odama, has appealed to Ugandans to empower the girl child for development.

He criticized parents who prefer educating the boy child while leaving a girl to stay at home doing core work.

The Archbishop instead encouraged parents to treat both boys and girls equally.

"Don't mistreat the girl child because she is a girl but treat them equally, a boy and a girl," Odama told participants.

The Archbishop was speaking during the women convention in Gulu district organised by Action for Development.

The executive director of Action for Development Regina Bafaki implored participants to educate both girl and boy child.

She said the journey of gender equality begins with one step at a time and never gets tired.

The Archbishop condemned domestic violence in families and called for harmony.

The Gulu Resident District Commissioner, Capt. Santos Okot Lapolo urged men to give women equal opportunity in decision making process.

"The woman is an important creation God has ever made, without her the world would be incomplete,"Lapolo said drawing applause from participants