For today's elections, voters will line up behind their candidate of choice, according to acting Electoral Commission spokesperson Paul Bukenya.
ELECTION WATCH

The Electoral Commission (EC) is today (Wednesday, September 2, 2020) conducting polls for parish/ward youth committees in 10,027 parishes across the country.

Paul Bukenya, the acting EC spokesperson, told New Vision on Tuesday (September 1, 2020) that the elections will be held in all the parishes where the positions were contested because during nominations some positions returned unopposed.

"Voters will line up behind their candidate of choice and after the polls, we will then compile the elected parish committee within the sub-county to form the register for purposes of elections at the sub-county level," he said.

Bukenya noted that this will be a progressive election.

"We recently held national village elections [for special interest groups] and tomorrow [Wednesday, September 2, 2020] we are going to hold those of parish level. From parish, we will then proceed to sub-county level and then municipal and city division polls," he said.

They will then conduct the district elections, which will lead them to compiling the national youth register that will be used for electing national youth council and delegates will go for regional conferences for elections of youth MPs.

The revised roadmap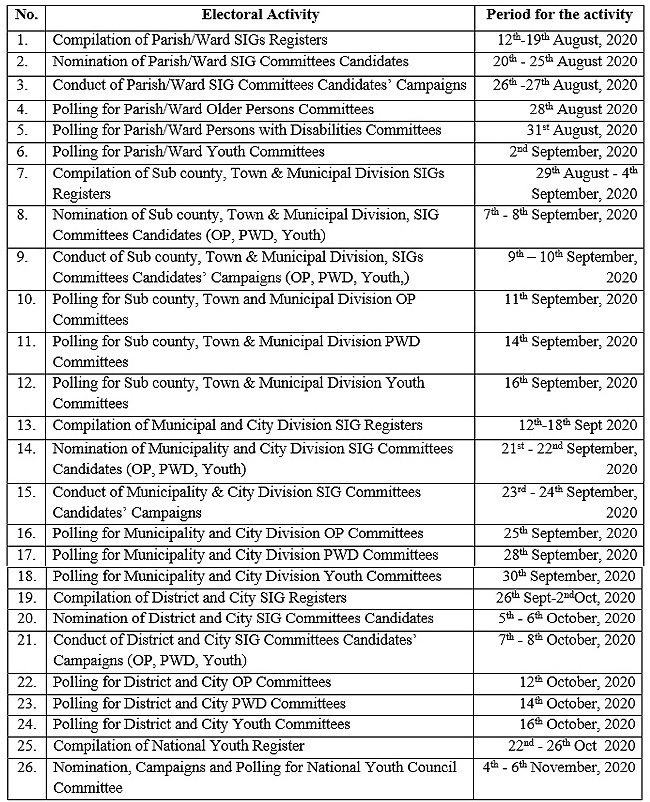 Nine members elected

Bukenya said in the recent village level elections, nine members from each village within the parish were elected and they compiled their names into a register for the electoral college for purposes of the parish level elections.

"So now, our electoral college for parish elections will comprise of those elected committee members from each village within the parish, which means that we shall have small numbers meeting for purposes of these elections and they will meet to elect the nine members of the committee for the parish."

During village elections, voters also queued behind candidates, their portraits, symbols or agents. A total of 7,846,373 youth registered for the polls. In Uganda, youth aged between 18 and 34 constitute 75% of the population.

However, village elections were marred by violence by some youth whose names were found missing on the voters' register.

Security

Bukenya said Tuesday that with the smaller electoral college, they will be able to enforce their standard operating procedures (SOPs) today.

"We have emphasized responsible behaviour so that we don't see a repeat of chaotic conduct that we saw at the village elections level. So there are arrangements for security," he said.

The National Resistance Movement (NRM) registered big victories in the national village elections for special interest groups.

The youth elections had 159, 000 positions and NRM took 47,000 of those positions, which is 79%. Independents took 15% while other political parties took 6%, according President Yoweri Museveni, who is also the party chairperson.

''People with disabilities (PWDs) had 49,000 positions up for grabs. NRM took 41,000, which is 85%. Independents took 13% and the others took 2%," Museveni said on August 20.

In the village elections for the elderly, out of the 57,000 positions, NRM won 50,000, representing 87%, independents got 10% while other competitors garnered 3%.

"Therefore, I congratulate NRM on these big victories. These are not small elections, there were about eight million youth who had registered to vote. It was a big election," said the President.