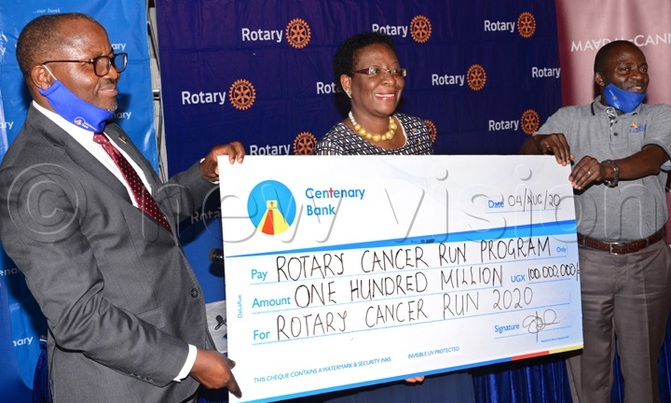 Proceeds will go towards the purchase of two Linear Accelerators at the Rotary-Centenary Bank Cancer Ward at Nsambya Hospital
Because of the rampant Coronavirus pandemic, the 9th edition of the Centenary Bank-Rotary Cancer Run on August 30 will not have people converging to run in groups as it has been before.
It will instead be a virtual run with individuals participating on their own or with their families in their vicinities, using the kit from previous runs, and later share their pictures on social media.
Addressing a press conference at Hotel Africana on Tuesday, at which Centenary Bank and MAAD Advertising offered sh100 and sh20m respectively towards this year's run, organizing committee chairperson Dennis Jjuuko said the run will be live-streamed on their website and on their Facebook page that Sunday.
"The run will live-stream under the hashtag #Rotary Cancer Run 2020. There will be a certificate for download on our website; rotaryd9211.org for each participant and there will be a virtual medical camp before the run via Zoom," Juuko said.
He said instead of the usual running vests, participants can instead buy masks that have been designed to match the COVID-19 times we are experiencing. The masks that go for sh10, 000/- each can be bought at Game Stores Lugogo, Shoprite, Capital Shoppers, Centenary Bank branches, and at the Rotary Cancer offices at NIC building.
Alternatively, people and organisations that want to contribute money can do so through Centenary Bank A/C No.3100023145 or by dialing *211# or through Cente Agents countrywide.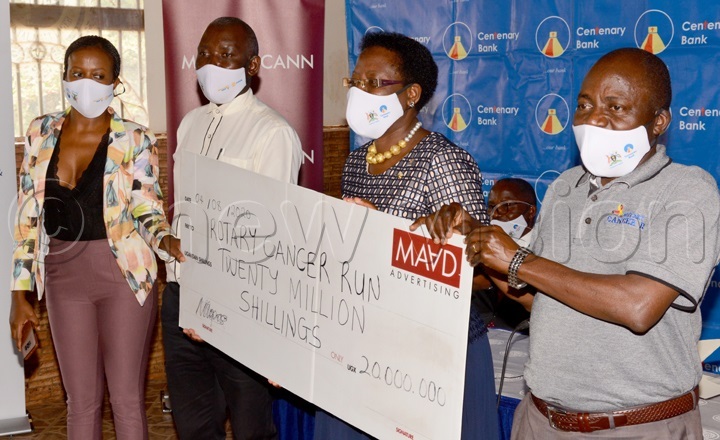 Centenary Bank Managing Director Fabian Kasi presented a sh100m cheque to Rotary District Governor Rosette Nabbumba and Past District Governor Stephen Mwanje towards the run at the press conference.
The money will go towards the purchase of two Linear Accelerators (modern cancer treatment machines) at the Rotary-Centenary Bank Cancer Ward at Nsambya Hospital.
"While all our eyes are on Covid-19, cancer continues to be the silent killer and I thank rotary for leading in the fight against the disease," Kasi said.
"We appreciate the organisers for quickly adjusting to the current situation, and more exciting is that even communities without smartphones will be part of the run using radio and television, and I thank the organisers for including the communities where we operate," Kasi said.
"We need to raise more money because the Linear accelerator machines are not yet here, we, therefore, need all your contributions and so we urge everyone to continue donating towards the cause to be able to meet the objective.
"We pledge to continue supporting this cause and other campaigns related to the fight and as a bank, we are excited to take part in the run. Because of COVID-19, this year's run presents a perfect platform for people to exercise at home as they keep fit while keeping healthy at the same time, and I encourage all our customers and fellow countrymen to take part," Kasi stated.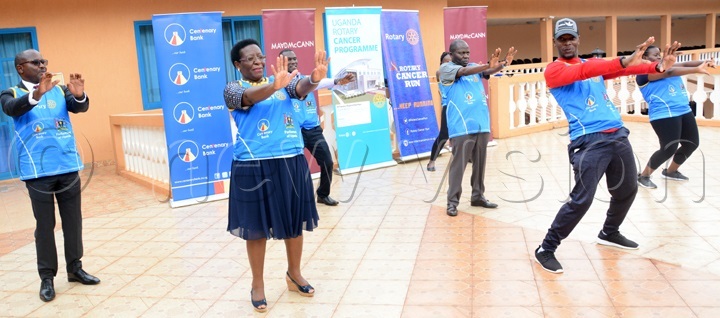 Mwanje thanked the bank for continuing to support the cause even during the COVID-19 times. He encouraged everyone to prepare for the run and ensure they participate from wherever they will be.
Nabbumba thanked the bank and the Parliament of Uganda and the other sponsors for consistently supporting the run, noting that rotary is known for good stewardship of resources. She appealed to all Ugandans to participate in the Virtual Rotary Cancer Run and also embrace rotary's Fitness and Nutrition (FAN) program by exercising daily and eating properly and in the right time, and make it a habit.
"The run this year comes at a challenging time of COVID-19, so we urge all people to avoid the pandemic by following the government guidelines and washing their hands and sanitizing regularly," Nabbumba said.
"By participating in this year's cancer run, you'll be killing two birds with one stone, let us all focus on improving our health by bringing on these programs together so that we can fight disease and raise awareness about cancer," Nabbumba advised.
Sh778m was raised from last year's run while over sh1.7b had been realized from the previous two years. sh18bn is required to complete the work at the cancer ward at Nsambya Hospital.