I know what the President said about face masks, but this is my husband, what is the use of me guarding against him when we stay in the same house.
HEALTH VIRUS

KAMPALA - A woman, travelling as a co-driver in a private car was Wednesday arrested at a checkpoint in a traffic police operation that netted hundreds of motorists who defied the Presidential directives on COVID-19.

The woman, only identified as Lillian was travelling in a saloon car with her husband but had not put on a face mask. Their car was intercepted at a police checkpoint near the Electoral Commission along Jinja Road, where hundreds of motorists were arrested and taken to the Central Police Station and their cars towed.



The operation commanded by the Elly Kaigwa, the Officer in charge of traffic police at the Central Police Station, started at about 7:30am and covered the largest part of the day.

Lillian however, broke down in tears after she failed to convince the traffic officers with her argument. She admitted not to have been wearing a face mask but argued that she was in the car with her husband and it was illogical for her to protect herself against a person she lives with.



"I know what the President said about face masks, but this is my husband, what is the use of me guarding against him when we stay in the same house," she said amidst sobs.

Traffic officers failed to calm down the sobbing woman and referred her to Kaigwa who asked her to first calm down.



"Why are you crying, are you going to solve this by crying," Kaigwa asked. Lillian told the officer that she was so angry for arresting her over a crime she said was a matter of 'misinterpreting' the Presidents directive.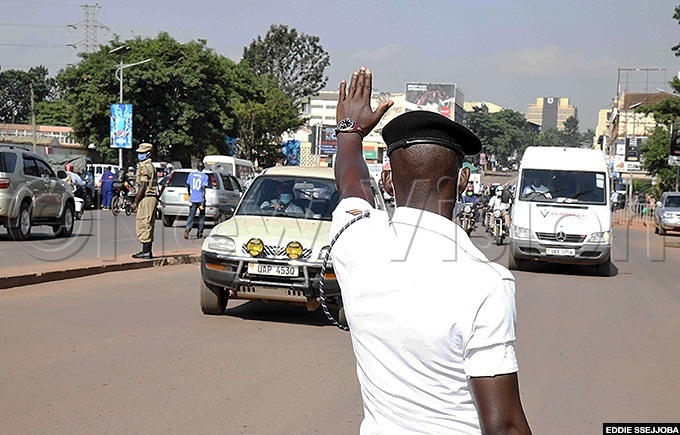 She was ordered to return to the parked car and calm down. The traffic officers, however, said they did not have an issue with the husband because he was putting on a mask at the time of the arrest.

Lillian said she feels uncomfortable whenever she wears a facemask.



Several motorists who were intercepted at the checkpoint without masks tried in vain to plead with the officers. A man pleaded that he adjusted his mask and pulled it down his chin in order to eat after spending the night working. "Both of us had masks but we had lowered them because we were eating while driving. The officers have arrested us saying we had not put them on properly," the man pleaded.



The police also arrested several boda boda cyclists who either had no side mirrors, helmets and other offences not related to COVID-19 directives. One of the young men whose motorcycle was loaded onto a breakdown knelt down and pleaded in vain saying he had borrowed it from a neighbour to collect their food which had been sent from the village. "It is not mine. I just borrowed it from our neighbour to collect our food from Kamwokya," the young man said.


Norman Musinga, the Kampala Metropolitan Traffic Police Commander said over 280 motorists were arrested for driving beyond the curfew deadline. He, however, said many were cautioned and released after writing statements.



"We warned them in writing, with Police Form 30. We then allowed them to proceed because private car owners have only resumed driving this week. We are now going to start impounding the cars," Musinga told journalists at Uganda Media Centre.