Since her childhood, Ruth Elizabeth Namutebi had a dream of being a architect, wife and mother. She worked hard in school and was pressing on towards her vision until hell broke loose.
HIV/AIDS

In the build-up to the World AIDS Day on December 1, Vision Group is covering the subject of HIV daily. The theme for this year is, Communities Make the Difference, in recognition of the essential role that they play in the AIDS response at the local, national and in ternational levels. Today, Jacquiline Nakandi shares Ruth Namutebi's story.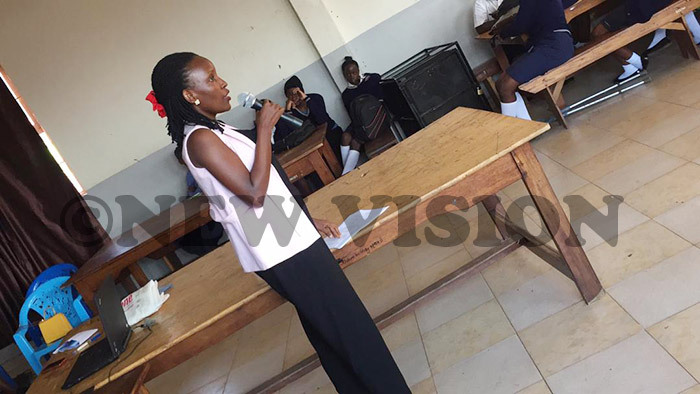 Namutebi narrating her story to the youth
Since her childhood, Ruth Elizabeth Namutebi had a dream of being a architect, wife and mother. She worked hard in school and was pressing on towards her vision until hell broke loose.
Since then, she has hardly known happiness, but despair, rejection and ill-treatment for being born with HIV.

She strongly believes on several occasions, she has been denied opportunities such as scholarships because of her HIV status.

Meanwhile, she has vowed to fight against stigma until her last breath. Namutebi has become a voice for the voiceless. She motivates young adults to live positively. She dreams of sharing her story worldwide on platforms like TED Talks and Goalcast among others.

Namutebi narrates ordeal I was born in a family of three girls, but was raised by my extended family. I was born in Muyenga, Makindye division, a Kampala suburb and it's where I reside.

Life without a mother

My last picture of my mother was at the hospital. She was lying lifelessly on the bed with tubes inserted in her nose and mouth. I was seven years old and my sister five. I remember visiting her at the hospital and she failed to recognise us. The sickness had affected her sight.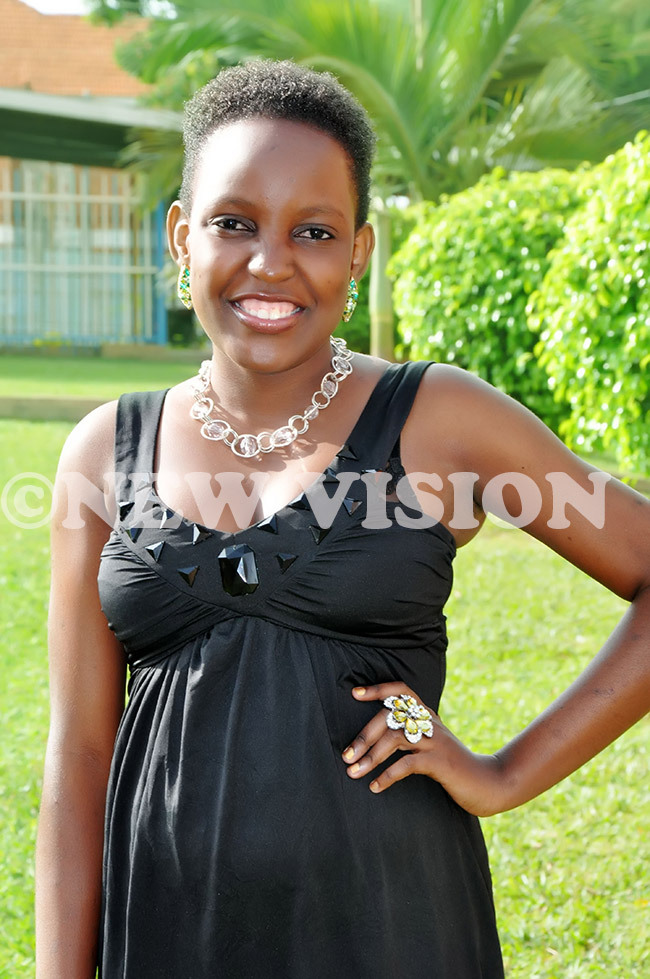 After her death and burial, dad told my sister and I never to shed a tear again. Life became hard, I remember father picking me from school (Shimoni Demonstration School) and we would walk to the taxi stage.

When he did not have taxi fare, so he would tell me to seat on the a kameeme, and he sat at the back seats. Sympathetic conductors would drop me home at no fee.

However, on bad days the conductor would chase me, but fellow passengers would plead on my behalf.

On good days when he had money, dad would treat me to lunch at the Subway Restaurant opposite Uganda Broadcasting Corporation and, thereafter, board a taxi back home.

After some time, father fell sick and my paternal aunt took over the responsibility of looking after us.

When he was admitted, they did not allow us to visit him.

I think because of the trauma we had gone through seeing mother bedridden. I remember sending him a Bible to help him get better.

Life at secondary school

While in Senior One, I fell sick and my doctors prescribed septrin.

According to school rules, anyone who had medicine had to keep it at the dispensary.

Whenever, it was time for swallowing my medicine, the nurse would ask me questions, which made me uncomfortable.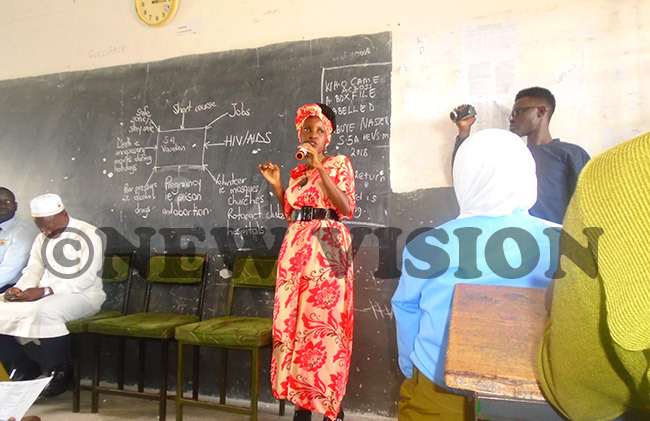 Namutebi talking to students at Kakungulu Memorial school
By then, I had not yet confirmed if I was positive or not. So, I had no answers for her.
In Senior One third term, I fell sick and my doctors decided I start taking Antiretrovirals and ART stands for Antiretroviral drugs. They, however, suggested starting during holidays.

In May, 2007, I started taking ARVs. I remember my aunt taking me to the balcony of her incomplete house and broke the news. I did not take it seriously, I was still young.

I joined Senior Two in second term because I was under observation if the drugs would respond to my system.

I was taken to a nearby school in Muyenga, which made my life better because it is near International Hospital Kampala (IHK), where I would go for my routine treatment (refill).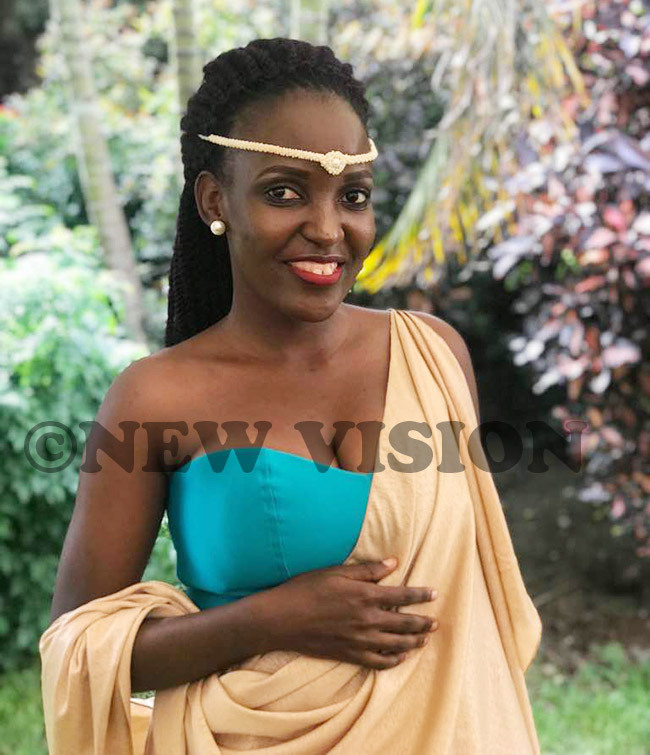 Tough times

Thoughts of being HIVpositive began hitting me deep. I badly needed to let it out and I confided in a friend; little did I know it was the beginning of my dreadful days at school.

Before I even left school that day, another girl had already known my secret. I let go, thinking that it was only them who knew. However, surprisingly, the entire school was gossiping about me.

I was depressed, but did not tell anyone because I had lost trust in people.

I was living in denial, hated my mother and wished she terminated me. On several occasions I would question my existence.

When I was seen walking with anyone at school, he or she would be considered dead. The most hurting part was fellow students thinking

I had contracted HIV through sleeping around. Every night, I would cry to sleep. Many times, I wished someone would walk up to me and tell me everything is fine, but it did not happen. I isolated myself at school.

Eventually, I intentionally stopped attending classes mostly the biology classes faking that I was sick. Each time the teacher discussed about diseases, such as HIV, it made me feel terrible because everyone would turn and look at me. My favourite activity at school was dancing, in it, I would lay my sorrow.

Turning point

At one point I had to put my foot down and asked if any of those students stigmatizing me would matter in years to come. I also thought of my sister and the example I would be setting for her. Senior

Four was getting closer. So, I had to focus irrespective of what I was going through. I picked my broken pieces and dedicated my time on what was important.

I did my final exams and passed well. In Senior Five second term I changed to a new school, Kakungulu Memorial School.

I started a new life putting behind rejection and stigma. However, this did not last because fate was following me like a shadow.

Students from my previous school also joined. They began telling whoever cared to listen about my status. By that time, my sister was admitted to Butabika Hospital. I lost concentration and performed poorly in Senior Six.

Pursuing my dream

Architecture was my dream course, but given the 12 points

I had scored; no university would admit me.

I was advised to pursue other courses, but I was not ready give up. I thought of repeating Senior Six, but fortunately contacted a gentleman called Ananais Semusu (my mentor), who advised me to apply for a diploma in an institute located in Masindi. Luckily, I was admitted. During my stay in Masindi, I made every day worth. By the time I left, I was known for being good at architectural software.

I have worked with several architectural firms on different projects and I have learnt a lot. I still dream of pursuing a degree. However, because of my financial status, I could not afford it.

I resorted to applying for scholarships in different countries, which at times I am successful only to be rejected when they get to know my status. I have written to influential people, like Winnie

Byanyima, the Speaker of Parliament, Rebecca Kadaga, minister Nakiwala Kiyingi, former USA President Barrack Obama, Oprah Winfrey, Rose Clarke Nanyoga, Mark Daniel Maloney and the Rev. Canon Prof. Gideon Byamugisha in vain. I still have hope of pursuing a degree one day.

Public speaking

Because of the way I was treated at school, I vowed to help people in such a situation. I have gone to schools, churches and clubs narrating my story and I have seen people's lives change.

I hope to become an influential motivational speaker, share my story worldwide to end stigma, as well as motivate young adults. I dream of speaking on platforms like TED Talks and Goalcas

Dealing with tb

When I was in Primary Six, I developed tuberculosis (TB). I was too young to tell that I had TB, but all I remember is swallowing pills every day. The medication lasted for over two years.

While in Primary Seven, I learnt that TB is a sign and symptom of HIV, which got me thinking that I might be HIV-positive.

Because I was young and naive, I brushed the thoughts away.

Namutebi's love life

Dating has always been a challenge, having to explain my status. The thought of being rejected was not something I was ready to face.

I played it safe, saying no to men who seemed interested in me.

However, during school, there was this one guy I dated and did not disclose my status.

He some found out but was okay with it. In his words he said: "I am also like you," but he was not.

We agreed to abstain.

For the first time someone really loved me. Unfortunately, our relationship did not work out because his mother got to know about my status.

Another gentleman after finding out my status, was even afraid to even kiss me.

Since then, I have been in and out of relationships, but I immediately disclose my status. I am not dating,

I decided to devote my energy in going back to school.